Queenstown
Last updated on Jul 09, 2023
Summary: Expats, digital nomads and retirees talk about what it is really like living in Queenstown, Singapore. They offer advice about meeting people, cost of living, finding a home and more.
What do I need to know before moving to Queenstown?
When we asked people what advice they would give someone preparing to move to Queenstown, they said:
"Before moving to Queenstown, expats should know that it is one of the oldest and most historic districts in the country, offering a unique blend of old and new. It is a residential area, so it is quieter than the bustling city center, but still offers plenty of amenities. Expats should be aware that the cost of living in Queenstown, like much of Singapore, can be high. This includes housing, which can be quite expensive, especially for larger or more modern apartments. Public transportation in Queenstown is efficient and reliable, with easy access to the MRT (Mass Rapid Transit) system. However, owning a car in Singapore is costly due to high taxes and fees. Queenstown is home to a diverse range of food options, from traditional hawker centers to upscale restaurants. It's also known for its vibrant nightlife, with a variety of bars and clubs. The district is also home to several reputable schools, making it a popular choice for expat families. However, securing a spot in these schools can be competitive, so it's advisable to start the application process early. Healthcare in Singapore is of a high standard, and Queenstown is no exception. There are several medical facilities in the area, but expats should ensure they have adequate health insurance as medical costs can be high. Finally, while English is widely spoken in Singapore, learning some basic phrases in Mandarin or Malay could be beneficial. This can help expats better integrate into the local community and culture," remarked one expat who made the move to Queenstown.
What is a typical expat home or apartment like in Queenstown?
About the Author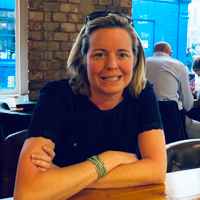 Betsy Burlingame is the Founder and President of Expat Exchange and is one of the Founders of Digital Nomad Exchange. She launched Expat Exchange in 1997 as her Master's thesis project at NYU. Prior to Expat Exchange, Betsy worked at AT&T in International and Mass Market Marketing. She graduated from Ohio Wesleyan University with a BA in International Business and German.
Some of Betsy's articles include 12 Best Places to Live in Portugal, 7 Best Places to Live in Panama and 12 Things to Know Before Moving to the Dominican Republic. Betsy loves to travel and spend time with her family. Connect with Betsy on LinkedIn.