Expat Advice: Culture Shock in Al Khobar, Saudi Arabia

Share Your Experiences with Culture Shock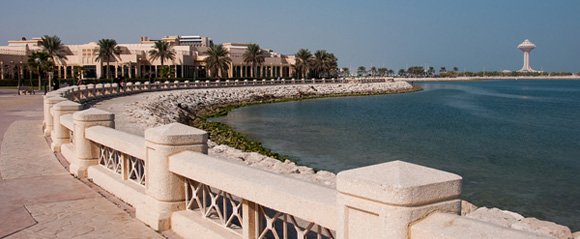 Al Khobar, Saudi Arabia
An expat in Al Khobar, Saudi Arabia appreciates how accepting the locals were of his family and how they live their lives day to day. He found prayer time and the fact that stores are closed during the middle of the day a challenge. He admits that life in Al Khobar was more challenging for expat women, who have to be transported everywhere and have more rules to live by.
What is the name of the city or town that you are reporting on?
Al Khobar
Did you receive any cross-cultural training for your move abroad? If yes, was it before or after the move?
No formal training. After my wife arrived, she spoke with a lady from the relocation company who offered some help, but we had already been in country for 2 months.
Moving to Saudi Arabia Soon?
ExpatExchange's partner, International Moving Quotes, offers you a simple and hassle free solution to plan your move. You'll get up to 5 FREE quotes from trusted international movers. Takes 1 minute! No obligation. Save up to 40%. Only qualified and professional movers. Get your quotes now!
If they speak another language in your new country, do you speak the language? If yes, did you learn the language before you moved or while abroad? If no, are you planning to learn the language?
I don't speak Arabic. I don't currently have any plans to learn.
Were you worried or concerned about culture shock before you moved abroad?
Taking my family into a country we knew very little about. How would we be received?
How significant was the culture shock you experienced when you moved abroad?
It wasn't as bad as expected. We had talked to some people who had lived here previously and a couple who were currently living here. They helped us with our expectations greatly.
Expats often talk about going through the "stages of culture shock." Examples include the honeymoon phase, the irritation-to-anger stage, the rejection of the culture stage, and the cultural adjustment phase. Do you feel like you went through these or any other stages as you settled into the new culture?
There's not much of a honeymoon phase in Saudi. You jump right in feet first. You learn to adjust, but I believe it's different more for the wives than the husbands.
What, if any, were some of the changes you noticed in yourself that might have been caused by culture shock? These might include things such as anger, depression, anxiety, increased eating or drinking, frustration, homesickness, etc.
We tend to stay home more than we did previously. You look forward to getting away for the weekend. Things aren't bad until it gets close to vacation time. Then, you are ready to go!
What are some things you appreciate most about the new culture?
How accepting locals are of my family. Everyone is very kind and willing to help with issues. They really live by the day to day aspect of life. Sometimes it makes things difficult for planning purposes, but it's a credit to them to believe the way they do.
What are the most challenging aspects of the new culture?
More for the wives than the husbands. Prayer time while trying to shop. Stores closed during the middle of the day for several hours. Relying on others to transport the ladies around.
Did you "commit" any embarrassing or humorous cultural blunders? If you did and you'd like to share them, please do tell!
Our biggest blunder was upon arrival for sure. We were chastising our children in the airport. We later discovered that the locals don't look upon that very favorably.
Do you have any advice or thoughts about culture shock you would like to share?
Talk to anyone you can about what to actually expect. 90% of what you need to know will come from them. If someone hasn't been there, let them tell you their opinion, but give it limited importance. Unless you have been there, you just don't know.
More Expat Advice about Culture Shock in Saudi Arabia

Write a Comment about this Expat Report