10 Tips for Living in Guatemala
By Betsy Burlingame
Summary: Expats in Guatemala offers tips about living in Guatemala. They discuss where to live in Guatemala, the locals and their culture, crime problems, cost of living and more.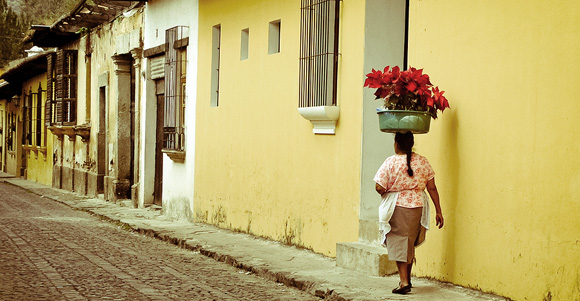 1. Learning the Language Connects You with the Locals
"Have bonded tightly with a few of the guatemalan people, and have learned a great deal from these folks...learning the language is something i am proud to have done as well as i have, and take great delight in using it," said one expat in San Marcos.
2. Some Guatemalans Dislike Americans
"Not every one you meet from around the globe is nice, and some folks will not like you if you are from the US...seems some folks dont like the US and the choices the states made in its affairs with other nations and countries, it never crossed my mind i would have to deal with this issue... got to the point i considered saying i was from Canada... lol.. the expats generally do not like to mingle if they think you are not a tourist,or you are not into partying... the guatemalans prefer to ignore you, and are not warm unless it involves them making money off of you," explained another expat.
3. The Weather is Not What Most Expect
"The weather was another shock and important as it was not accurate either on the web...so was not prepared for the weather emotionally or mentally...quite the shock actually...yes I knew it rained, yes I knew it could be like chilly, no I did not know it was dark, gloomy, down right frio, and there was days you just did not want to get out of bed due to the weather," described one expat in Lake Atitlan.
4. Guatemalans Won't Say "I Don't Know" When They Don't Have An Answer to a Question
"When in Rome... The Guatemalan people can be very nice but it is a cultural thing they will lie to you before ever saying I don't know. I have lived in Guatemala for about 2 years to illustrate my point, it was about 6 months after I arrived that I finally understood a comment in Lonely Planets guide book about "what goes on under the surface is harder to pin down". One day me and a friend stood outside of a business. On one side of the double doors was their sign, we stood on the other side and ask people if they could tell us where was ...the place we were standing in front of. Only two people out of 20+ said it's right there, the rest gave us directions to everywhere else. Not one person said I don't know. I think it is a cultural thing, because if you say I don't know, you may be missing an opportunity to make some money playing the middle man," said one expat.
5. Where to Live in Guatemala
"I have lived in Guatemala for 6 years and I'm happy to report I have only missed a hot shower two or three times. I recommend Antigua or one of the surrounding towns - it's more expensive, but you get what you pay for! Plus, Guatemala City is only an hour away when you feel the need to go to the mall or take your kid to the zoo," suggested one expat.
"Esquipulas is a small, friendly, laid back city. Most people will say "Hi" to you on the street. There are only 5 expats here, and we don`t have a club. But, we do help each other when asked. It's a fairly safe place, unlike the Capitol. You can walk down the street at 2AM in the morning without fearing for your life. Esquipulas is the center of faith in Central America, but it does not dominate every day living. The economy of the town is based on religon (Catholic). The economy is tied to tourisum and religon," said one expat.
"Outside of the touristy areas of Antigua it is truly authentic Guatemala. The villages surrounding Antigua offer you a genuine experience and you can reach these areas by foot or tuk tuk. If you want to live like a local and immerse yourself in Guatemalan culture, you can simply live on the outskirts of Antigua. When you have an urge to experience a cosmopolitan and international vibe you can walk right into town and dine at any of the 150+ restaurants serving a variety of ethnic cuisines from cheap to expensive and meet up with friends and neighbors from all over the world. There are 4 sushi restaurants and many high end bistros along with dozens of tipico food vendors to give you an idea of the vast selection of dining options. There are many art galleries, museums, cafes, bars and night clubs plus plenty of shopping at the mercado. You can go everywhere in Antigua by foot. When you get tired of that scene you can go back home to your authentic Guatemalan village away from the touristy area. The weather in Antigua is eternal spring with an average mean temperature of exactly room temperature, i.e. perfect. If you have a medical emergency that requires advanced treatment, Guatemala City is only 45 minutes away. Best of all you can rent a place just outside of town for cheaper than in town so living away from the touristy area works in your favor," explained another expat.
6. Finding a Home in Guatemala
"Find a home that is closer to town that way you will have electricity, water, etc... Make sure you are close to a bus route," advised one expat in Salama, Guatemala.
7. Cost of Living in Guatemala
"I have been in Guatemala for 20 years - one year in Antigua and 19 in Guatemala City. Fruits and vegetables are price better than anywhere in Central America. They are all grown here and cost less than a fifth of the prices in the U.S. Meats are more expensive but I buy my at the market as well. Pork is $2.50 a pound and Chicken is $0.99 a pound. I rented for years in Guatemala City and paid US$300 for a four bedroom home.," reported one expat.
"I live in the lake Atitlan area. If you don't own a house you will rent let say a 2 bedrooms between $ 500 and $ 600 a month. Normally this doesn't include internet or Cable Tv. I have one house for rent in Panajachel 2 bedrooms big garden for $ 375 for example. Then the cost of food is very cheap and the food is abundant. Pinas are $2 a piece, Avocados 15 ctvs, Chicken 2$ the pound, meat also cheap. Beer $ 1.50 the 33cl bottle. Wine $ 10 a bottle. Internet $ 40 with USB wire less modem for 8 gb download, moto taxi in Panajachel 60 cts per trip, medical insurance depending of your age but I know of one insurance that insure for people after 65. Now in Antigua rental a bit more expensive, Quetzaltenango is also a good option. As well as Rio Dulce and Guatemala City but it all depends of your point of interest," reported another expat.
"have live in Guatemala for 20 years. I currently have two children and our family of five (my mother-in-law) lives comfortably on US$1,500 per month, but that is without rent as I own the home. However you can find nice rents for 2 to 3 bedrooms for US$400 per month in Antigua, Guatemala City, Pana, Xela. We shop for all vegetable and fruits at the market where prices are dirt cheap - US$0.30 per paid for tomatoes, just a bit more for onions.... Chicken breast meat is more expensive here - US$2 per pound, but thighs and legs are US$1. per pound in some places. Overall living expenses are much cheaper. I have high speed internet and cable tv for US$35 for both combined. Electricity runs me US$60 per month," said on expat.
8. Schools in Guatemala
"I live in guatemala and have two boys 14 and 11 in school here. There are many schools that are great. The majority do not post prices because they want you to call or go to their offices to rope you in... There are loads of choices depending upon what you want and your budget. Upper end budget is Maya, Americano, Evelyn Rogers, APDE and others. My sons go to a school that costs me $400 a month (10 months per year) for the two of them and that includes bus transportation. My sons were in school in the U.S. for three years when I lived in Boston but both started here in Guate and are now back in school here. One son was top of his class here and was in the top five in Boston so the quality of education exists here!!! Good luck and let me know if I can be of any help," explained one expat.
9. Crime in Guatemala
"I've been living in Guatemala for over a year now, specifically in Antigua. I haven't heard too much about gang violence here in Antigua, but I do hear stories regularly about gang-related violence in Guatemala City. Even just driving down the main road is dangerous-a friend of mine was cornered on a busy main road by another car and shot at 6 times. But, as you probably know, certain zones in Guatemala City are safer to be in. I personally don't go to Guatemala City much (besides the airport). I think I've been 4 times in the year I've been here. Anyhow, maybe look at other cities besides Guatemala City-Antigua, Xela, etc," recommended one expat.
"I also lived in Xela for a year, but the wife wanted to live close to her family so we returned to Guatemala City. I do not see any more violence with gangs than before and usually if there is its is against bus drivers or gang members vs other gang members. Drug violence has increased but that is also contained within the group who deals drugs, buys them are transports them. Like any place in the world there is good and there is bad. The good far outweighs the bad and that is why I have stayed for 20 years," reported another expat.
10. Jobs in Guatemala
"I suggest Antigua first and foremost. Maybe one of the larger hotels - Soilei, Hotel Antigua, Casa Santo Domingo and others. There are tour opeartors that need guides that are bilingual. On the coast Monterrico is fast growing and one hotel - Hotel Dos Mundos is there as well as in Pana. There are cruise ships that arrive in Puerto Quetzal during the cruise ship season and tour operators needs guides to take people on tours," advised one expat.
About the Author
Betsy Burlingame is the Founder of Expat Exchange. She launched Expat Exchange in 1997 as her Master's thesis project at NYU. She graduated from Ohio Wesleyan University with a BA in International Business and German.

Write a Comment about this Article
First Published: Mar 12, 2013