Taupo, New Zealand
Last updated on Jul 10, 2023
Summary: Expats, digital nomads and retirees talk about what it is really like living in Taupo, New Zealand. They offer advice about meeting people, cost of living, finding a home and more.
What do I need to know before moving to Taupo?
When we asked people what advice they would give someone preparing to move to Taupo, they said:
"Before moving to Taupo, expats should know that the town is located in the central part of the North Island and is known for its stunning natural beauty, including Lake Taupo and the nearby Tongariro National Park. The cost of living in Taupo is generally lower than in larger cities like Auckland or Wellington, but it's still higher than many places in the world due to New Zealand's remote location. Expats should be aware that Taupo has a small-town feel, with a population of around 24,000 people, so it may not offer the same level of amenities or entertainment options as a larger city. However, it's a popular tourist destination, so there are plenty of restaurants, shops, and outdoor activities to enjoy. The primary industries in Taupo are tourism, forestry, and farming, so job opportunities may be limited in other sectors. English is the main language spoken in Taupo, but as with the rest of New Zealand, there's a growing recognition and use of the Maori language. The climate in Taupo is temperate, with warm summers and cool winters. It's important to note that houses in New Zealand, including Taupo, often lack central heating, so expats from warmer climates may find the winters colder than they're used to. Healthcare in New Zealand is of a high standard, and residents have access to both public and private healthcare options. Expats will need to apply for a healthcare card to access public healthcare services. New Zealand has a relaxed, outdoor-oriented lifestyle, and Taupo is no exception. Expats should be prepared to embrace outdoor activities like hiking, fishing, and boating. Lastly, New Zealanders, or "Kiwis", are known for their friendly and welcoming nature, so newcomers to Taupo should expect a warm welcome," wrote one member in Taupo.
How do I find a place to live in Taupo?
About the Author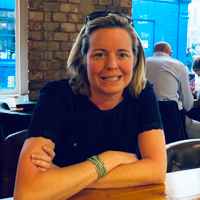 Betsy Burlingame is the Founder and President of Expat Exchange and is one of the Founders of Digital Nomad Exchange. She launched Expat Exchange in 1997 as her Master's thesis project at NYU. Prior to Expat Exchange, Betsy worked at AT&T in International and Mass Market Marketing. She graduated from Ohio Wesleyan University with a BA in International Business and German.
Some of Betsy's articles include 12 Best Places to Live in Portugal, 7 Best Places to Live in Panama and 12 Things to Know Before Moving to the Dominican Republic. Betsy loves to travel and spend time with her family. Connect with Betsy on LinkedIn.