Living in India
Last updated on Feb 05, 2023
Summary: The approximate population of India is 1.3 billion people. The largest cities in India are Mumbai, Delhi, Bangalore, Kolkata, Chennai, and Hyderabad. Expats love living in India for its vibrant culture, diverse landscapes, and friendly people. Life in India is often described as chaotic, colorful, and full of life. Popular foods in India include curries, tandoori dishes, samosas, and naan. The cons of living in India include air pollution, poverty, and a lack of infrastructure. The average cost of living for an expat is around $1,000-$2,000 USD per month. This cost of living can vary depending on the city and lifestyle.
What do I need to know about living in India?
When we asked people what advice they would give someone preparing to move to India, they said:
"Before retiring in India, it is important to familiarise yourself with local laws and regulations. Consider researching topics such as taxation, visa requirements, and healthcare. Additionally, it is essential to consider the cost of living in India, as well as research neighbourhoods and living options that best suit your preferences and budget. It may be beneficial to plan your retirement income carefully and to familiarise yourself with banking services offered in India. Finally, you may want to consider learning some of India's cultures, customs and languages to ensure a smoother transition into life in the country," added another expat in India.
"Surround yourself with positive people, get your support from them should you need it. India is at times challenging, exciting and in its own way crazy but if you are willing to be open to the differences then you will be rewarded with experiences way beyond what you would expect. I love India which is why we have returned here for a second time," remarked another expat who made the move to Bangalore.
Answer Question & View More Answers
How do I meet people in India?
When we asked people living in India about club and activities where newcomers can meet others, they responded:
"The best way to meet people in India is to join local meetup groups or community activities. You can also find and join local clubs or organizations related to your interests, such as music, dancing, or hiking. You can also try asking other expats living in India for advice on how to best meet people in India. Additionally, social media platforms such as Facebook and Twitter can be great tools for finding people who share your interests and passions. Lastly, attending cultural events, such as festivals and concerts, will open the doors for more networking opportunities," remarked another expat living in India.
"In 2010 we moved from New Zealand to Bangalore for my wife to take up a teaching role, along with us we brought our youngest son who was 9 at the time. We enrolled him in Trio World School (now Trio World Academy) where my wife was teaching. The school was a lot like being part of a large extended family, friendships were forged that have lasted till today and I expect beyond. At the time Trio being a International School following the Cambridge curriculum was an excellent fit and provided an incredible foundation for our son's future. Today Trio offers Cambridge and IB Curriculum's at Trio World Academy, ICSE Indian curriculum at Trio World School and world class kindergarten care at Trio Tots. I would absolutely recommend this school to parents wanting to educate their children in Bangalore," added another expat in Bangalore.
Answer Question & View More Answers
What is life like in India?
When we asked people living in India what life is like and how people spend their time, they said:
"Living as an expat in the area can be a great experience. There is a cosmopolitan atmosphere in the cities, with a variety of cultures, different cuisines, and plenty of entertainment and things to do. English is widely spoken and most people are welcoming to visitors, so it is easy to get around and make friends. The area has a big expat community, with many expats who have already been living there for a long time. Housing can be difficult to find and expensive, but there are a few expat-focused websites and agencies which can help, and the area is generally quite affordable. Generally speaking, the standard of living is good, with excellent healthcare and educational facilities, but the climate can be extreme at times," said another expat in India.
"Bangalore is a large city which today is heralded as the IT capital of India, its a nice place to live, friendly people, a vibrant cultural environment. As with any city of this size you will find somewhere a supportive group of people with interests similar to your own. I am an avid nature photographer and I have quickly gathered around me people with information and interests willing to share their experiences. Indians are often willing to include ex-pats in their lives with a shared interest in food or other things. Getting invited to Indian Weddings, Engagement parties etc is common and you are feted as special," added another expat who made the move to Bangalore.
Answer Question & View More Answers
Is there a lot of crime in India?
We asked people if there is a lot of crime. They answered:
"Crime in India is a significant issue, with the rate of crime being one of the highest in the world. Violent crimes, including assault, robbery, and murder are common, with statistics showing that there were more than 5 million violent crimes reported in India in 2017. Cybercrime, human trafficking, and counterfeiting also occur frequently in India, presenting further security and law enforcement challenges," said another expat in India.
Is there a lot of diversity? Are people in India accepting of differences?
"India is a highly diverse country. With over 1.3 billion people living in India, there are many different religions, indigenous ethnicities, languages, and cultures that call the country their home. India often celebrates this diversity and its effect on the country's cultural and economic development. People in India generally accept and embrace differences, and inter-cultural marriages are common. Furthermore, there are a variety of festivals, such as Diwali, that are celebrated by people from all walks of life. This shows how much diversity and acceptance India has for other cultures," wrote a member in India.
"Bangalore is like every other part of India, diverse in its culture, religions and peoples, many languages, extraordinary festivals and a vibrancy that makes every day exciting and fascinating," commented one expat who made the move to Bangalore.
Answer Question & View More Answers
What are the schools in India like?
"Schools in India vary greatly in terms of curriculum, teaching quality, management and infrastructure. Most schools follow the 10+2 system, with the 10th grade board exams and 12th grade board exams serving as the key milestones in a student's secondary education. The Primary (1-5) and Middle (6-8) school stages are offered in most schools, with some also offering a separate Pre-Primary (Nursery-LKG) class. In terms of curriculum, most schools follow the NCERT national curriculum supplemented with additional material to cater to the needs of individual states. Teaching quality across schools is heavily dependent on the region, but schools in urban areas tend to be better resourced. Management in most schools consists of a Principal and support staff and a governing council consisting of prominent members of the local community. Infrastructure in Indian schools varies greatly, with some of the top schools having well-maintained buildings and playgrounds," added an expat with kids at in .
"Just call them and they will look after everything, best school, highly highly recommended," commented one expat when asked about Solitaire Global Schools in Hyderabad.
Answer Question & View More Answers
Is the cost of living in India high?
We asked people how much they someone comfortably live on in India, they wrote:
"The cost of living in India varies depending on the region, but generally it is considered to be quite affordable. Certain major cities, such as Mumbai and New Delhi, have higher costs of living than other areas of the country. Generally, the cost of housing, food, and transportation are lower than in other countries," remarked another expat who made the move to India.
About the Author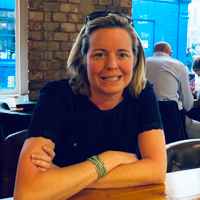 Betsy Burlingame is the Founder and President of Expat Exchange and is one of the Founders of Digital Nomad Exchange. She launched Expat Exchange in 1997 as her Master's thesis project at NYU. Prior to Expat Exchange, Betsy worked at AT&T in International and Mass Market Marketing. She graduated from Ohio Wesleyan University with a BA in International Business and German.
Some of Betsy's articles include 12 Best Places to Live in Portugal, 7 Best Places to Live in Panama and 12 Things to Know Before Moving to the Dominican Republic. Betsy loves to travel and spend time with her family. Connect with Betsy on LinkedIn.