Moving to Dublin, Ireland
Last updated on Feb 03, 2023
Summary: Expatriates are drawn to Dublin, Ireland for its vibrant culture, rich history, and stunning natural beauty. The city is known for its lively nightlife, excellent restaurants, and friendly locals. Dublin is also home to a number of world-class universities, making it an attractive destination for students and professionals alike. Before moving to Dublin, it is important to be aware of the cost of living, which is higher than in many other parts of Europe. It is also important to research the job market and the availability of housing. Additionally, it is important to familiarize yourself with the local culture and customs, as well as the language. Finally, it is important to make sure you have the necessary paperwork and visas in order before arriving in Dublin.
What do I need to know before moving to Dublin?
When we asked people what advice they would give someone preparing to move to Dublin, they said:
"1. Dublin has a temperate oceanic climate - expect cool temperatures year round. 2. The public transportation system is excellent and very affordable. 3. The cost of living is higher than many other areas of the country. 4. Dublin is a culturally rich city with plenty of activities to explore. 5. Dublin is well known for its green spaces and beautiful parks. 6. English is the main language spoken in Dublin. 7. There are several neighborhoods in Dublin to choose from, so take some time to research the area that best suits your needs. 8. Make sure to familiarize yourself with any visa or work permit requirements before moving to Dublin. 9. If you plan to drive, you should familiarize yourself with the road signage and laws. 10. There are great job opportunities in Dublin, but make sure you have the necessary qualifications to apply," remarked another expat who made the move to Dublin.
"Renters only have to give one months notice so potential homes won't come onto the market till they are ready (or nearly ready) to be leased. Find out what the different types of houses are like; terraced, semi detached etc. Think about your lifestyle, would you like to be near the beach, a park, the DART (Dublin's main transport system, your office, kids school etc.... Know that Dublin's traffic jams are are really bad and getting worse, a 15 minute journey on a sunday morning can take an hour and a half during the week!The bus system is hopeless, the Dart is more reliable. It's always worth investing time and money on a reconnaissance trip before moving," explained one expat living in Dublin, Ireland.
How do I find a place to live in Dublin?
We asked expats how they chose their neighborhood and found a place to live. They answered:
"Finding a place to live in Dublin is relatively straightforward with a large variety of rental accommodation available. There are many websites and resources that can help you in the search for your perfect home. You can start with searching for property on popular rental accommodation websites such as Daft.ie, MyHome.ie, or Rent.ie. These sites offer various types of rental properties from houses to apartments and studios. Additionally, you can contact local real estate agents and inquire about recent rental listings. Some real estate agents specialize in residential rental services, so if you're looking for accommodations for a particular area in Dublin, contacting local agents would be a good way to go. You can also search for accommodation through universities, government housing associations and through friends or family. Finally, attending a roommates meetup group or similar get-togethers hosted throughout the city could be an effective way to find a place to live. There are many options to explore and research when looking for a place to live in Dublin," replied a member in Dublin.
"We came to Ireland on a pre-move visit to get a 'feel' for the different areas in and around Dublin. In the months previous to our move we scoured the homes for rent list on www.daft.ie which is THE website for real estate on which virtually all real estate agents and prive landlords advertise their properties. We eventually found our home via an estate agent," commented one expat who made the move to Dublin.
What is a typical expat home or apartment like in Dublin?
"Expat homes in Dublin range from rental apartments to traditional terraced houses. Apartments are usually furnished and cater to professionals who don't have the time or resources to set up their own place. Houses come in a variety of sizes, from small two bedroom cottages to large executive residences. In newer areas, there are a number of modern gated developments with their own amenities. Regardless of style, all homes tend to feature neutral tones and wood or stone floors. As an extra benefit, when it comes to renting, most landlords will accept pets," replied a member in Dublin.
"We rent a house with garden. This is typical for expat families, flats are more common for single people," commented one expat who made the move to Dublin.
Answer Question & View More Answers
What is the average cost of housing in Dublin?
If you are thinking about moving to Dublin, cost of living in probably a key consideration. Expats commented about the cost of housing:
"The cost of housing in Dublin varies depending on area and availability, but is typically higher than other cities in Ireland," said another expat in Dublin.
"Far more expensive here. House cost about twice the price as in Boston. Food is about 30 to 40% more," remarked another expat who made the move to Dublin.
Should I buy or rent a home in Dublin?
If you have not spent a lot of time in Dublin, you should rent before even thinking about buying. We asked expats there about the buy vs. rent decision:
"Buying a home in Dublin can be a difficult decision, as both options have their pros and cons. Renting a home in Dublin offers flexibility and can be less expensive in the short term; you may not need to pay a deposit or closing costs, and it can be easier to move. However, it's often more difficult to find a place that meets your needs, and you won't have the same level of freedom with modifications or additions. Buying a home in Dublin can provide stability, you will be able to customize it as you like, and you may be able to take advantage of tax benefits. However, it's usually a larger commitment of time, money, and effort, and you will have to put up a deposit and closing costs. Ultimately, the decision of buying or renting a home in Dublin will depend on your needs, preferences, and financial situation," added another expat who made the move to Dublin.
What should I pack when moving to Dublin?
We asked people living in Dublin to list three things they wish they had brought and three they wish they had left behind. They responded:
"Clothes suitable for varied weather conditions, comfortable walking shoes, toiletries, laundry supplies, kitchenware, first-aid supplies, medications and any special items you need, cleaning supplies, a toolkit, pet supplies (if applicable), bedding, towels, and linens," said another expat in Dublin.
"Wish I'd brought; Bike (traffic circulation is horrendous), sewing fabric (hard to find nice stuff), antiques (excrutiatingly overpriced) Wish I'd left behind; bathing suit ;-), sunscreen ;-), anything else sun related :-(," added another expat who made the move to Dublin.
Answer Question & View More Answers
What cultural faux pas should I try to avoid making in Dublin?
We asked people in Dublin if they could share any humorous cultural blunders they commited. For new expats, keep in mind that these incidents are an inevitable part of expat life. Learning to laugh about them is the key!:
"In Dublin, it is important to show respect to those older and younger than you, as well as to strangers. Avoid talking too loudly and showing disrespect by swearing. It is also important to be aware of social norms, such as the fact that it is considered rude to keep your hands in your pockets while speaking to someone. In terms of tipping, it is generally not expected unless you have received good service. It is also recommended to use appropriate language when speaking to locals; using terms such as 'grand' when referring to something good and 'feck' when referring to something bad will be well-received in Dublin," said another expat in Dublin.
What are medical services in Dublin like?
When we asked expats and global nomads about the quality of medical care in Dublin, they replied:
"Every visit to GP or consultant costs money, unless you earn very little money and have a medical card. Waiting times are insane, sometimes even when you are privately insured," added one expat living in Dublin.
About the Author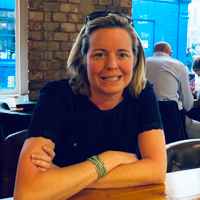 Betsy Burlingame is the Founder and President of Expat Exchange and is one of the Founders of Digital Nomad Exchange. She launched Expat Exchange in 1997 as her Master's thesis project at NYU. Prior to Expat Exchange, Betsy worked at AT&T in International and Mass Market Marketing. She graduated from Ohio Wesleyan University with a BA in International Business and German.
Some of Betsy's articles include 12 Best Places to Live in Portugal, 7 Best Places to Live in Panama and 12 Things to Know Before Moving to the Dominican Republic. Betsy loves to travel and spend time with her family. Connect with Betsy on LinkedIn.