Clifden, Ireland
Last updated on Jul 10, 2023
Summary: Expats, digital nomads and retirees talk about what it is really like living in Clifden, Ireland. They offer advice about meeting people, cost of living, finding a home and more.
What do I need to know before moving to Clifden?
When we asked people what advice they would give someone preparing to move to Clifden, they said:
"Before moving to Clifden, expats should know that it is a small town located in the region of Connemara, known for its natural beauty and traditional Irish culture. The primary language spoken in Clifden is English, but you may also hear Irish Gaelic, as the town is located in the Gaeltacht, or Irish-speaking region. The cost of living in Clifden is generally lower than in larger Irish cities like Dublin or Cork, but it can still be relatively high compared to other countries. Housing can be a bit scarce, so it's recommended to start looking for a place to live well in advance. The town has a slower pace of life, which can be a big change for those used to living in a bustling city. The local economy is largely based on tourism, agriculture, and fishing, so job opportunities may be limited in other sectors. The weather in Clifden is typically mild, but it can be quite rainy, so it's advisable to invest in good rain gear. The town is also quite remote, with the nearest large city, Galway, about an hour and a half away by car. Healthcare in Ireland is of a high standard, and there are local healthcare facilities in Clifden, but for more specialized treatment, you may need to travel to Galway or Dublin. Finally, Clifden is known for its friendly and welcoming community, so newcomers are likely to feel at home quickly. However, it's important to respect the local culture and traditions, which are deeply rooted in the town's history and way of life," remarked one expat living in Clifden, Ireland.
How do I find a place to live in Clifden?
About the Author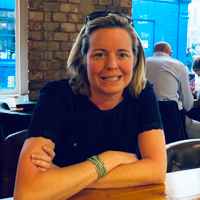 Betsy Burlingame is the Founder and President of Expat Exchange and is one of the Founders of Digital Nomad Exchange. She launched Expat Exchange in 1997 as her Master's thesis project at NYU. Prior to Expat Exchange, Betsy worked at AT&T in International and Mass Market Marketing. She graduated from Ohio Wesleyan University with a BA in International Business and German.
Some of Betsy's articles include 12 Best Places to Live in Portugal, 7 Best Places to Live in Panama and 12 Things to Know Before Moving to the Dominican Republic. Betsy loves to travel and spend time with her family. Connect with Betsy on LinkedIn.