Skerries, Ireland
Last updated on Jul 10, 2023
Summary: Expats, digital nomads and retirees talk about what it is really like living in Skerries, Ireland. They offer advice about meeting people, cost of living, finding a home and more.
What do I need to know before moving to Skerries?
When we asked people what advice they would give someone preparing to move to Skerries, they said:
"Skerries is a small coastal town in Fingal, Ireland, known for its traditional Irish charm, beautiful beaches, and vibrant community life. Before moving to Skerries, expats should know that the cost of living is relatively high, especially when it comes to housing, as it is a popular tourist destination. The town is well-connected to Dublin, Ireland's capital, by train and bus, making it a convenient place for those who work in the city but prefer to live in a quieter, more relaxed environment. English is the primary language spoken in Skerries, but as with the rest of Ireland, Irish (Gaelic) is also taught in schools and used in some official capacities. Skerries has a temperate maritime climate, with mild winters and cool summers, so expats from warmer climates may need to adjust. The town has a strong sense of community, with numerous festivals and events held throughout the year, including the popular Skerries Traditional Music Weekend. Healthcare in Ireland is of a high standard, and Skerries has several medical centres and pharmacies. However, it's important to note that while some healthcare costs are covered by the state, many services require out-of-pocket payment or private health insurance. Skerries has a range of educational options, from primary schools to secondary schools, most of which follow the Irish education system. The town is known for its outdoor activities, including sailing, fishing, and golfing, as well as its walking trails and bird watching opportunities at the local islands. Finally, Skerries is a safe town with a low crime rate, but like anywhere, it's always important to take standard precautions to protect yourself and your property," remarked one expat who made the move to Skerries.
How do I find a place to live in Skerries?
About the Author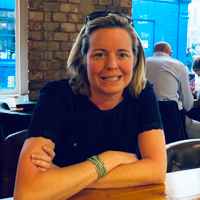 Betsy Burlingame is the Founder and President of Expat Exchange and is one of the Founders of Digital Nomad Exchange. She launched Expat Exchange in 1997 as her Master's thesis project at NYU. Prior to Expat Exchange, Betsy worked at AT&T in International and Mass Market Marketing. She graduated from Ohio Wesleyan University with a BA in International Business and German.
Some of Betsy's articles include 12 Best Places to Live in Portugal, 7 Best Places to Live in Panama and 12 Things to Know Before Moving to the Dominican Republic. Betsy loves to travel and spend time with her family. Connect with Betsy on LinkedIn.