Cobh, Ireland
Last updated on Jul 10, 2023
Summary: Expats, digital nomads and retirees talk about what it is really like living in Cobh, Ireland. They offer advice about meeting people, cost of living, finding a home and more.
What do I need to know before moving to Cobh?
When we asked people what advice they would give someone preparing to move to Cobh, they said:
"Cobh is a small seaside town in County Cork, known for its rich history and stunning views. It's important to know that the cost of living in Cobh is relatively low compared to other parts of Ireland, but it can still be higher than in many other countries. The town is very walkable, but having a car can be beneficial for exploring the surrounding areas. The weather in Cobh is typically mild, but it can be quite rainy, so it's advisable to always carry an umbrella. The town is safe and the crime rate is low, but like anywhere, it's important to take basic safety precautions. The primary language spoken in Cobh is English, but you'll also hear Irish, especially in schools and government offices. The healthcare system in Ireland is good, but it can be expensive if you're not a resident, so it's important to have health insurance. Cobh is a tight-knit community and locals are generally friendly and welcoming to newcomers. The town has a slower pace of life, which can be a big change if you're used to living in a city. The town is steeped in history, being the last port of call for the Titanic and the point of departure for many Irish emigrants during the famine. There are many historical sites and museums to visit. The local cuisine is a mix of traditional Irish food and seafood, given its coastal location. There are also several pubs in the town, where you can enjoy a pint of Guinness and live traditional Irish music. Cobh has a range of housing options, from apartments to houses, and the rental market is competitive. It's advisable to secure a place to live before moving. Finally, it's important to know that Cobh is a tourist town, so it can get busy during the summer months. However, the influx of tourists also brings a lively atmosphere and plenty of events and festivals," wrote one member in Cobh.
How do I find a place to live in Cobh?
About the Author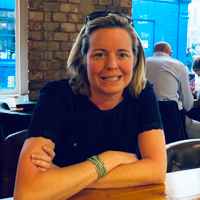 Betsy Burlingame is the Founder and President of Expat Exchange and is one of the Founders of Digital Nomad Exchange. She launched Expat Exchange in 1997 as her Master's thesis project at NYU. Prior to Expat Exchange, Betsy worked at AT&T in International and Mass Market Marketing. She graduated from Ohio Wesleyan University with a BA in International Business and German.
Some of Betsy's articles include 12 Best Places to Live in Portugal, 7 Best Places to Live in Panama and 12 Things to Know Before Moving to the Dominican Republic. Betsy loves to travel and spend time with her family. Connect with Betsy on LinkedIn.