Dingle, Ireland
Last updated on Jul 10, 2023
Summary: Expats, digital nomads and retirees talk about what it is really like living in Dingle , Ireland. They offer advice about meeting people, cost of living, finding a home and more.
What do I need to know before moving to Dingle?
When we asked people what advice they would give someone preparing to move to Dingle, they said:
"Dingle is a small port town on southwest Ireland's Dingle Peninsula, known for its rugged scenery, trails, and sandy beaches. It's a popular tourist destination, so it can get quite busy during the peak season. The town is also known for its Irish culture and language, with many locals speaking both English and Irish. The cost of living in Dingle can be quite high, especially during the tourist season. Housing can be expensive and hard to find, so it's recommended to secure accommodation before moving. The town is small, so most places are within walking distance, but having a car can be beneficial for exploring the wider peninsula. The weather in Dingle can be unpredictable, with frequent rain and wind, so it's advisable to have waterproof clothing. The town has a mild climate, with temperatures rarely dropping below freezing in winter or rising above 20°C in summer. Dingle has a vibrant food scene, with many restaurants offering fresh, locally sourced seafood. The town is also famous for its pubs, many of which offer traditional Irish music sessions. Healthcare in Ireland is of a high standard, but it's important to note that it's not free. Expats will need to either have private health insurance or pay for public healthcare services. The education system in Ireland is also of a high standard, with a mix of public and private schools. However, some schools in Dingle may teach through the medium of Irish, so it's important to consider this when choosing a school for your children. Dingle is a safe town with a low crime rate, but like any place, it's always important to take basic safety precautions. Finally, it's worth noting that Dingle is a tight-knit community, and it may take some time for newcomers to feel fully integrated. However, the locals are known for their friendliness and hospitality, so don't hesitate to get involved in community events and activities," commented one expat who made the move to Dingle .
How do I find a place to live in Dingle?
About the Author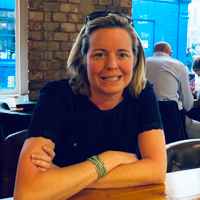 Betsy Burlingame is the Founder and President of Expat Exchange and is one of the Founders of Digital Nomad Exchange. She launched Expat Exchange in 1997 as her Master's thesis project at NYU. Prior to Expat Exchange, Betsy worked at AT&T in International and Mass Market Marketing. She graduated from Ohio Wesleyan University with a BA in International Business and German.
Some of Betsy's articles include 12 Best Places to Live in Portugal, 7 Best Places to Live in Panama and 12 Things to Know Before Moving to the Dominican Republic. Betsy loves to travel and spend time with her family. Connect with Betsy on LinkedIn.