Tobercurry, Ireland
Last updated on Sep 17, 2022
Summary: Expats, digital nomads and retirees talk about what it is really like living in Tobercurry, Ireland. They offer advice about meeting people, cost of living, finding a home and more.
What do I need to know before moving to Tobercurry?
When we asked people what advice they would give someone preparing to move to Tobercurry, they said:
"Advice before moving is DO YOUR HOMEWORK! The things you pay for in your current home will be very much similar and yet some will be different, like the required annual TV license fee here. We made a list of everything we paid for in Florida; groceries, medical and dental, rent, utilities, clothing, personal care like hair cuts, transportation, etc, then did a comparison by communities in our new intended home area. In searching for a home don't rely on real estate sites and photos, like even on a good website like daft.ie. Check with the local Garda (police) and the local papers to do a historical check on the area. We do not recommend renting or buying anything unless you have first seen the neighborhood. What appears "picture perfect" on the internet can be quite a rude awakening when seen first hand. Look for a temporary housing like can be found TripAdvisor.com so you can explore a number of locations. Priority for us was transportation hubs like bus, which is great, or train," mentioned another expat in Tobercurry.
How do I find a place to live in Tobercurry?
We asked expats how they chose their neighborhood and found a place to live. They answered:
"Originally we sought a retirement area south of the USA to live that was going to give us a good life for our retirement income (social security and savings).. Having discovered expatexchange.com over three years ago we found Ireland ranked highly in a listing there for cost of living affordability and we speak the language! In our additional research we found a gent and his wife who had preceded us to Tobercurry in County Sligo, who had retired and relocated 7 years before us. We struck up internet chatting and with the friendship that developed, our move was especially easy," remarked another expat who made the move to Tobercurry.
What is a typical expat home or apartment like in Tobercurry?
"We found a lovely detached single family 4 bed, 4 bath home which is less common in a lot of Ireland. Most housing is semi-detached and we stayed in such our first month here while waiting for our present home to become available to rent. Homes in Ireland are very sturdy and are very similar in design," mentioned another expat in Tobercurry.
What is the average cost of housing in Tobercurry?
If you are thinking about moving to Tobercurry, cost of living in probably a key consideration. Expats commented about the cost of housing:
"Remarkably our 4 bedroom home is about half the cost of the 2 bedroom apartment we rented in Florida and our home is private, in an upscale neighborhood with a backyard and abutting a large pasture. Depending on the location, renting and purchasing can vary significantly. We opted to avoid city life, like Dublin, where cost of housing is considerably more. Our location averages €650 per month where in Dublin similar could run €2500," explained one expat living in Tobercurry, Ireland.
What should I bring when moving to Tobercurry?
People living in Tobercurry were asked what three things they wish they had brought and three they wish they had left behind. They wrote:
"Easily what my husband and I wish we had brought for our retirement new home, and still hope for, are our two sons, grown and on their own, our grandkids, growing quickly, and our friends. Although they are missed dearly, hi-tech gadgets allow us face to face chats so it's not too difficult being without. The number of things we wish we had left in the States include too many pots and pans, too many electronics requiring adapters and transformers, and clothing! We had read stories online about the cost of such in Ireland and found that not to be true where we live, on the western side in a more relaxed locale with easy access to major stores. We have found all of the above items to be less costly than imagined," added another expat in Tobercurry.
Is there a lot of crime in Tobercurry?
We asked people if there is a lot of crime. They answered:
"We asked, prior to moving, about overall crime and specifically the area we were choosing for our move. Petty crimes like purse snatching are rare. Of course larger cities have higher incidents but much lower gun problems since here they are illegal," remarked another expat living in Tobercurry, Ireland.
"Petty crime occurs here but nothing major and not frequent. That was a factor in deciding to choose Tobercurry. Our town is a very diverse community, accepting of everyone. Anyone not a resident is usually identified," added another expat in Tobercurry.
About the Author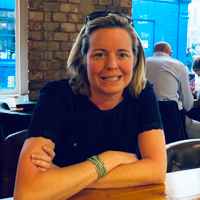 Betsy Burlingame is the Founder and President of Expat Exchange and is one of the Founders of Digital Nomad Exchange. She launched Expat Exchange in 1997 as her Master's thesis project at NYU. Prior to Expat Exchange, Betsy worked at AT&T in International and Mass Market Marketing. She graduated from Ohio Wesleyan University with a BA in International Business and German.
Some of Betsy's articles include 12 Best Places to Live in Portugal, 7 Best Places to Live in Panama and 12 Things to Know Before Moving to the Dominican Republic. Betsy loves to travel and spend time with her family. Connect with Betsy on LinkedIn.