Jumeirah, the UAE
Last updated on Jul 10, 2023
Summary: Expats, digital nomads and retirees talk about what it is really like living in Jumeirah, UAE. They offer advice about meeting people, cost of living, finding a home and more.
What do I need to know before moving to Jumeirah?
When we asked people what advice they would give someone preparing to move to Jumeirah, they said:
"Expats moving to Jumeirah should be aware that it is one of the most affluent areas in Dubai, known for its luxurious lifestyle and high-end amenities. The cost of living in Jumeirah is quite high, with rent for villas and apartments being significantly more expensive than in other parts of the city. The area is home to many expats from around the world, creating a diverse and multicultural community. Jumeirah is a predominantly Muslim area, and expats should respect local customs and traditions, particularly during the holy month of Ramadan. The official language is Arabic, but English is widely spoken and understood. The UAE has strict laws and regulations, and expats should familiarize themselves with these to avoid any legal issues. The climate in Jumeirah is hot and humid, with temperatures often exceeding 40 degrees Celsius in the summer. The area is well-served by public transportation, including buses and taxis, but many residents choose to drive. Expats should be aware that driving standards can be erratic and traffic congestion is common. Jumeirah is home to some of Dubai's most famous landmarks, including the Burj Al Arab and Jumeirah Beach. The area offers a wide range of recreational activities, from water sports to shopping at high-end boutiques. The healthcare facilities in Jumeirah are excellent, with a number of world-class hospitals and clinics. Education is a key consideration for expats with children, and Jumeirah has a number of reputable international schools. However, school fees can be high and places are often in demand, so it's advisable to apply well in advance. Finally, while Jumeirah offers a high standard of living, it's important for expats to ensure that their salary and benefits package is sufficient to cover the cost of living in this upscale area," explained one expat living in Jumeirah, the UAE.
How do I find a place to live in Jumeirah?
About the Author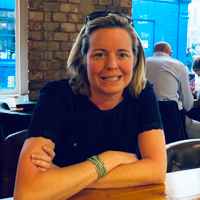 Betsy Burlingame is the Founder and President of Expat Exchange and is one of the Founders of Digital Nomad Exchange. She launched Expat Exchange in 1997 as her Master's thesis project at NYU. Prior to Expat Exchange, Betsy worked at AT&T in International and Mass Market Marketing. She graduated from Ohio Wesleyan University with a BA in International Business and German.
Some of Betsy's articles include 12 Best Places to Live in Portugal, 7 Best Places to Live in Panama and 12 Things to Know Before Moving to the Dominican Republic. Betsy loves to travel and spend time with her family. Connect with Betsy on LinkedIn.