Saadiyat Island, the UAE
Last updated on Jul 10, 2023
Summary: Expats, digital nomads and retirees talk about what it is really like living in Saadiyat Island, UAE. They offer advice about meeting people, cost of living, finding a home and more.
What do I need to know before moving to Saadiyat Island?
When we asked people what advice they would give someone preparing to move to Saadiyat Island, they said:
"Saadiyat Island is a luxurious and culturally rich destination located in the United Arab Emirates. Before moving there, expats should be aware of several key factors. Firstly, the cost of living on Saadiyat Island is quite high, with luxury villas and apartments being the norm. Expats should ensure they have a sufficient income or savings to support this lifestyle. Secondly, the island is home to several cultural institutions like the Louvre Abu Dhabi and the upcoming Guggenheim Abu Dhabi, making it a hub for art and culture enthusiasts. Thirdly, the island is very expat-friendly with a large international community. English is widely spoken, making it easier for expats to communicate and settle in. Fourthly, the UAE has strict laws and customs that should be respected. This includes dress codes, alcohol consumption, and public behavior. Fifthly, the climate in the UAE is extremely hot and humid, particularly in the summer months. Expats should be prepared for this and take necessary precautions to stay hydrated and cool. Lastly, healthcare in the UAE is of a high standard, but it can be expensive. It's recommended that expats have comprehensive health insurance. Overall, Saadiyat Island offers a high standard of living with a rich cultural scene, but it's important for expats to be prepared for the cost of living, respect local customs, and be ready for the climate," remarked one expat who made the move to Saadiyat Island.
How do I find a place to live in Saadiyat Island?
About the Author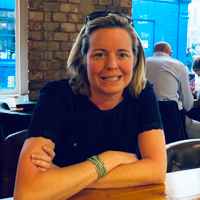 Betsy Burlingame is the Founder and President of Expat Exchange and is one of the Founders of Digital Nomad Exchange. She launched Expat Exchange in 1997 as her Master's thesis project at NYU. Prior to Expat Exchange, Betsy worked at AT&T in International and Mass Market Marketing. She graduated from Ohio Wesleyan University with a BA in International Business and German.
Some of Betsy's articles include 12 Best Places to Live in Portugal, 7 Best Places to Live in Panama and 12 Things to Know Before Moving to the Dominican Republic. Betsy loves to travel and spend time with her family. Connect with Betsy on LinkedIn.