Al Barsha, the UAE
Last updated on Jul 10, 2023
Summary: Expats, digital nomads and retirees talk about what it is really like living in Al Barsha, UAE. They offer advice about meeting people, cost of living, finding a home and more.
What do I need to know before moving to Al Barsha?
When we asked people what advice they would give someone preparing to move to Al Barsha, they said:
"Al Barsha is a popular residential area in Dubai, UAE, known for its affordability and accessibility to major parts of the city. Before moving to Al Barsha, expats should know that the area is divided into Al Barsha 1, 2, and 3, with Al Barsha South further divided into four sub-communities. The area is home to a diverse mix of nationalities, creating a multicultural environment. Al Barsha is a family-friendly area, with several schools, nurseries, and parks available for families with children. The area is also home to the Mall of the Emirates, one of the largest shopping malls in the world, offering a wide range of shopping, dining, and entertainment options. Public transportation is easily accessible in Al Barsha, with several metro stations and bus stops throughout the area. Renting in Al Barsha is generally more affordable compared to other areas in Dubai, with a range of housing options available from apartments to villas. Expats should be aware that the summer months in Al Barsha, like the rest of Dubai, can be extremely hot, with temperatures often exceeding 40 degrees Celsius. Al Barsha is a relatively quiet area compared to the bustling city center, making it a good choice for those seeking a more relaxed lifestyle. Expats should also be aware of the UAE's strict laws and customs, including those related to dress code, alcohol consumption, and public behavior. Healthcare facilities are readily available in Al Barsha, with several hospitals and clinics in the area. Finally, while English is widely spoken in Al Barsha and the rest of Dubai, learning some basic Arabic phrases can be helpful," said one expat in Al Barsha.
How do I find a place to live in Al Barsha?
About the Author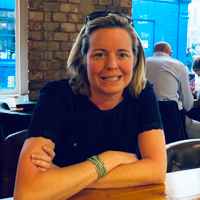 Betsy Burlingame is the Founder and President of Expat Exchange and is one of the Founders of Digital Nomad Exchange. She launched Expat Exchange in 1997 as her Master's thesis project at NYU. Prior to Expat Exchange, Betsy worked at AT&T in International and Mass Market Marketing. She graduated from Ohio Wesleyan University with a BA in International Business and German.
Some of Betsy's articles include 12 Best Places to Live in Portugal, 7 Best Places to Live in Panama and 12 Things to Know Before Moving to the Dominican Republic. Betsy loves to travel and spend time with her family. Connect with Betsy on LinkedIn.