Kalba, the UAE
Last updated on Jul 10, 2023
Summary: Expats, digital nomads and retirees talk about what it is really like living in Kalba, UAE. They offer advice about meeting people, cost of living, finding a home and more.
What do I need to know before moving to Kalba?
When we asked people what advice they would give someone preparing to move to Kalba, they said:
"Expats moving to Kalba, should be aware that it is a small city located on the eastern coast of the UAE, known for its natural beauty and tranquility. It's important to respect the local culture and traditions, which are deeply rooted in Islam. Dress modestly in public places, and avoid showing too much skin to respect the local customs. The official language is Arabic, but English is widely spoken and understood. The cost of living in Kalba is relatively lower compared to other cities in the UAE, but it's still higher than in many Western countries. The city has a hot desert climate, with extremely high temperatures in the summer and mild winters. Expats should also know that the healthcare system in the UAE is of a high standard, with both public and private healthcare facilities available. However, it's recommended to have comprehensive health insurance. The education system in the UAE is also of a high standard, with a range of public, private, and international schools available. Driving is the most common mode of transportation in Kalba, and the UAE has a well-developed network of highways. However, expats should be aware that driving standards can be erratic, and traffic laws are strictly enforced. Alcohol is legal in the UAE, but it's illegal to drink in public places or to drive under the influence. Finally, expats should be aware that the UAE has strict laws on personal conduct and morality. Public displays of affection are frowned upon, and cohabitation for unmarried couples is illegal. Homosexuality is also illegal, and there are strict laws on internet use, including a ban on certain websites and social media platforms," explained one expat living in Kalba, the UAE.
How do I find a place to live in Kalba?
About the Author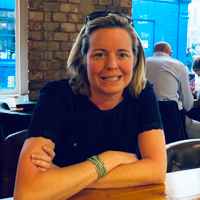 Betsy Burlingame is the Founder and President of Expat Exchange and is one of the Founders of Digital Nomad Exchange. She launched Expat Exchange in 1997 as her Master's thesis project at NYU. Prior to Expat Exchange, Betsy worked at AT&T in International and Mass Market Marketing. She graduated from Ohio Wesleyan University with a BA in International Business and German.
Some of Betsy's articles include 12 Best Places to Live in Portugal, 7 Best Places to Live in Panama and 12 Things to Know Before Moving to the Dominican Republic. Betsy loves to travel and spend time with her family. Connect with Betsy on LinkedIn.