Al Raha Beach, the UAE
Last updated on Jul 10, 2023
Summary: Expats, digital nomads and retirees talk about what it is really like living in Al Raha Beach, UAE. They offer advice about meeting people, cost of living, finding a home and more.
What do I need to know before moving to Al Raha Beach?
When we asked people what advice they would give someone preparing to move to Al Raha Beach, they said:
"Al Raha Beach is a popular residential area in Abu Dhabi, UAE, known for its luxurious lifestyle and high-end amenities. Before moving to Al Raha Beach, expats should be aware of several important factors. Firstly, the cost of living in Al Raha Beach is relatively high, with rent for luxury apartments and villas being quite expensive. However, the quality of life and the amenities provided often justify the cost. The official language in the UAE is Arabic, but English is widely spoken, especially in business and tourism sectors. It would be beneficial to learn some basic Arabic phrases, but it's not a necessity for living in Al Raha Beach. The UAE follows Islamic laws and traditions, which greatly influence the country's culture and lifestyle. Expats should respect these traditions, which include dressing modestly in public and refraining from public displays of affection. The climate in Al Raha Beach is desert-like, with extremely hot summers and mild winters. Expats from cooler climates may need some time to adjust to the heat. Al Raha Beach is well-connected to other parts of Abu Dhabi and Dubai, with public transportation options like buses and taxis. However, many residents prefer to drive, and obtaining a UAE driving license might be necessary. Healthcare in Al Raha Beach is of a high standard, with several well-equipped hospitals and clinics. Expats should ensure they have adequate health insurance to cover any medical expenses. The education system in Al Raha Beach offers a variety of curriculums, including British, American, and International Baccalaureate. There are several reputable international schools, but spaces can be limited and fees are high. Finally, Al Raha Beach offers a variety of leisure and entertainment options, including shopping malls, restaurants, beaches, and sports facilities. It's a vibrant community with plenty to offer expats looking for a high standard of living," said one expat in Al Raha Beach.
How do I find a place to live in Al Raha Beach?
About the Author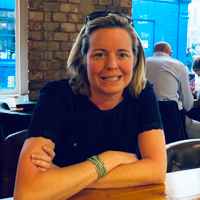 Betsy Burlingame is the Founder and President of Expat Exchange and is one of the Founders of Digital Nomad Exchange. She launched Expat Exchange in 1997 as her Master's thesis project at NYU. Prior to Expat Exchange, Betsy worked at AT&T in International and Mass Market Marketing. She graduated from Ohio Wesleyan University with a BA in International Business and German.
Some of Betsy's articles include 12 Best Places to Live in Portugal, 7 Best Places to Live in Panama and 12 Things to Know Before Moving to the Dominican Republic. Betsy loves to travel and spend time with her family. Connect with Betsy on LinkedIn.