What are healthcare services like in Leiden?
We asked retirees if they have access to good medical care in Leiden. They wrote...
"Leiden offers a wide range of healthcare services for its citizens. The city has several hospitals, including the Leiden University Medical Center, which is one of the largest and most advanced hospitals in the country. Additionally, there are numerous primary care clinics, pharmacies, and other medical facilities located throughout the city. Leiden also has a number of specialized medical centers, such as the Leiden Institute for Brain and Cognition, which focuses on neurological research and treatment. Furthermore, the city has a number of mental health services, including counseling and therapy, as well as a range of support services for those with disabilities," wrote a member who made the move to Leiden, The Netherlands.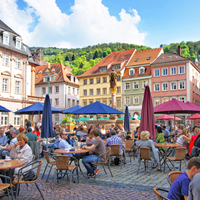 Furnished Rentals in Netherlands from Homelike
We've partnered with Homelike, to connect expats and newcomers with temporary accommodations in Netherlands. If you're moving to Netherlands, rent a short-term, furnished apartment or home for the first few months from Homelike and take your time figuring out the best place to live in Netherlands.
SEARCH RENTALS
Other Questions:
What are healthcare services like in Leiden?
If you live in Leiden, newcomers to Leiden would love to hear your answer to this question.