What do expats in UK appreciate most about the local culture?
We asked expats and digital nomads what they appreciate the most about the local culture in UK. They wrote...
"Expats in England appreciate the friendly and welcoming attitude of the local population, the rich culture and history evident in the many architectural monuments and buildings, the diverse and vibrant music, art, and cultural scenes, and the excellent public transportation system. They also enjoy the fact that England is a safe and tolerant country with a wide array of social activities and services available to all," remarked another expat in UK.
"I find customer service outstanding, people are very helpful, love the diversity of people, great restaurants and shops...enjoying the weather... very hot in US where I lived. Lots to do here, love the history, theatre, arts etc," said a member in Exeter, UK.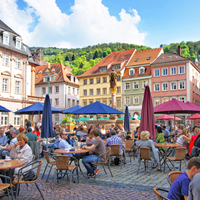 Furnished Rentals in UK from Homelike
We've partnered with Homelike, to connect expats and newcomers with temporary accommodations in UK. If you're moving to UK, rent a short-term, furnished apartment or home for the first few months from Homelike and take your time figuring out the best place to live in UK.
SEARCH RENTALS
Other Questions:
What do expats in UK appreciate most about the local culture?
If you live in England, newcomers to England would love to hear your answer to this question.
About the Author

Joshua Wood, LPC joined Expat Exchange in 2000 and serves as one of its Co-Presidents. He is also one of the Founders of Digital Nomad Exchange. Prior to Expat Exchange, Joshua worked for NBC Cable (MSNBC and CNBC Primetime). Joshua has a BA from Syracuse and a Master's in Clinical and Counseling Psychology from Fairleigh Dickinson University. Mr. Wood is also a licensed counselor and psychotherapist.
Some of Joshua's articles include Pros and Cons of Living in Portugal, 10 Best Places to Live in Ireland and Pros and Cons of Living in Uruguay. Connect with Joshua on LinkedIn.