Moving to Tijuana, Mexico
Last updated on Feb 04, 2023
Summary: Expatriates move to Tijuana, Mexico for a variety of reasons, including its close proximity to the United States, its vibrant culture, its low cost of living, and its diverse job opportunities. Tijuana is a great place for expats to experience a unique blend of Mexican and American culture, as well as to take advantage of the city's many attractions, such as its beaches, nightlife, and shopping. Additionally, Tijuana is a great place for expats to learn Spanish and to explore the many cultural and historical sites in the area.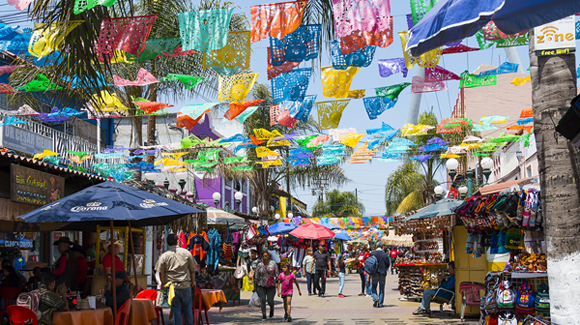 What do I need to know before moving to Tijuana?
When we asked people what advice they would give someone preparing to move to Tijuana, they said:
"Before moving to Tijuana, it is important to check the security situation and general state of crime in the area. It is recommended to be aware of the criminal activity and be prepared to take precautions such as avoiding any sketchy areas and walking with caution. Get familiar with the Mexican culture, the language, and laws. Make sure to have valid travel documents and visa, as well as updated copies of important documents. Be aware of the local customs and regulations, since many streets and neighborhoods have their own specific rules. Research the city thoroughly and get familiar with the different areas and neighborhoods. Research employment, housing, and transportation options and costs beforehand. Look for housing in secure and well-established neighborhoods. Get acquainted with local government and taxation requirements. Consider purchasing a car for local transportation. Lastly, be aware of the availability of healthcare services and choose the option that best suits your situation," replied a member in Tijuana.
"Tijuana has 1,400,000 inhabitants, has few attractions and is a dirty, ugly border town. There are few job opportunities and most jobs pay about $20 (US)/day!!! If you are an American citizen, you can cross the border (fast crossing with Sentry or Global Entry cards) and work in the U.S. We HAD to move here, (long story) or I never would have left Puerto Vallarta. This should not be a destination for families with children. It's a last resort for those down and out, trying to save a bit of money, while working in the U.S," commented one expat who made the move to Tijuana.
Answer Question & View More Answers
How do I find a place to live in Tijuana?
We asked expats how they chose their neighborhood and found a place to live. They answered:
"Tijuana is a large city with a wide range of options for finding a place to live. Depending on the type of residence you are looking for, it is possible to find short-term and long-term rentals, hostels, guesthouses, serviced apartments, and even entire homes. Local newspapers, classifieds, and websites like Expedia, Airbnb, VRBO, and HomeAway are good starting points to search for rental properties. To ensure safety and coverage, it is important to use reputable rental sites and do proper research on different policies, prices, and neighborhoods before making a decision. Connecting with local real estate agents who specialize in foreign transactions can be helpful as well," commented one expat who made the move to Tijuana.
"When we still lived in PV, my Mexican husband contacted a real estate place that handled rentals. He flew there to see it and we moved there. Two years later we found a bigger/better place, closer to the border, on the recommendation from a buddy at his work," remarked another expat in Tijuana, Mexico.
What is a typical expat home or apartment like in Tijuana?
"A typical expat home or apartment in Tijuana is usually a basic dwelling with a small living space, a kitchen, and one or two bedrooms. It is often housed in a building that is close to supermarkets, restaurants, and other amenities. The area has a moderate climate, so air conditioning amenities are not as common as in hotter climates. There is a range of quality of housing available in Tijuana and so the number of amenities depends on the budget. Despite this, many expats enjoy living and working in Tijuana, making it popular with ex-pats of all budgets," said another expat in Tijuana.
"Our "house" is the downstairs of a 5 bedroom, 3 bath, 2 story house. We have 2 bedrooms, 1 bath, huge living room, dining room and kitchen with gated parking and back yard. It has been converted into 2 separate dwellings. It is in one of the better (upscale) areas of Tijuana. Yes, most expats would want close access to the border and a larger living space than most Mexican homes have," added another expat who made the move to Tijuana.
What is the average cost of housing in Tijuana?
If you are thinking about moving to Tijuana, cost of living in probably a key consideration. Expats commented about the cost of housing:
"The average cost of housing in Tijuana is generally lower than other areas in Mexico. Typical prices for homes vary depending on the neighborhood but can range from moderate to expensive," said another expat in Tijuana.
"Oh, much lower!! We pay $400. (US)/ month for our house. In San Diego, California, the rent for such a place would be about $1500./month. You can rent a 1 bedroom apt. in TJ for as little as $80. (US)/mo. but I don't think too many Americans/Canadians would be happy with the lack of space, amenities and location. There are also lovely places here for $1000./mo. but those renters/owners are considered to be "rich" and could be a target for robbery," added another expat who made the move to Tijuana.
Should I buy or rent a home in Tijuana?
If you have not spent a lot of time in Tijuana, you should rent before even thinking about buying. We asked expats there about the buy vs. rent decision:
"Buying or renting a home in Tijuana depends on your individual circumstances. Before taking the plunge, you should consider your financial capabilities, lifestyle needs, and terms of the housing arrangement (such as tenancy length). If you are able to afford a home, you should also consider whether it is the right step for you in terms of security, location, and other factors. Ultimately, the decision of whether to buy or rent a home in Tijuana is a personal one that you should make after thoroughly evaluating your situation," said another expat in Tijuana.
What should I pack when moving to Tijuana?
We asked people living in Tijuana to list three things they wish they had brought and three they wish they had left behind. They responded:
"Clothing and shoes for all seasons, a two-month supply of all medications, an unlocked cell phone, toiletries, bedding, curtains, kitchen utensils, window shades, basic tools (screwdriver, hammer, etc.), a map of the city, a valid passport and appropriate visas, a Mexican driver's license, appropriate electrical adapters, a phrase book or app, and a good sense of adventure," said another expat in Tijuana.
"I lived in San Francisco, California area for 50 years, moved to Puerto Vallarta, Mexico in 2009, then to Tijuana in 2012. I moved to PV with nothing but collected quite a bit of stuff while living there. We rented a moving truck and carted it all to Tijuana. I can get everything I need by crossing the border to the U.S. Take what is important to you (treasured things). If you can afford to buy new/used furniture when you arrive, leave as much as you can in the U.S. Customs is a pain," remarked another expat who made the move to Tijuana.
What cultural faux pas should I try to avoid making in Tijuana?
We asked people in Tijuana if they could share any humorous cultural blunders they commited. For new expats, keep in mind that these incidents are an inevitable part of expat life. Learning to laugh about them is the key!:
"In Tijuana, it is considered rude to refuse alcohol or food that someone has offered you, so it is important to be aware of your limits and only accept what you feel comfortable with. Being overly loud or making insensitive language or jokes about anything or anyone in the city should be avoided, as should unnecessary public displays of affection with someone who does not hold the same cultural norms as you. Additionally, taking pictures of people in public spaces can also be seen as offensive, so if you do want to take photos it is best to ask for permission and be respectful," explained one expat living in Tijuana, Mexico.
How are healthcare services Tijuana?
When we asked expats and global nomads about the quality of medical care in Tijuana, they replied:
"Although I have met people having care for serious conditions, my experience has only been dental. People I know who had the same procedure done just across the border in San Diego had side effects I did not experience with my Mexican dentist," stated one expat who made the move to Tijuana.
About the Author

Joshua Wood, LPC joined Expat Exchange in 2000 and serves as one of its Co-Presidents. He is also one of the Founders of Digital Nomad Exchange. Prior to Expat Exchange, Joshua worked for NBC Cable (MSNBC and CNBC Primetime). Joshua has a BA from Syracuse and a Master's in Clinical and Counseling Psychology from Fairleigh Dickinson University. Mr. Wood is also a licensed counselor and psychotherapist.
Some of Joshua's articles include Pros and Cons of Living in Portugal, 10 Best Places to Live in Ireland and Pros and Cons of Living in Uruguay. Connect with Joshua on LinkedIn.