Mons, Belgium
Last updated on Jul 10, 2023
Summary: Expats, digital nomads and retirees talk about what it is really like living in Mons, Belgium. They offer advice about meeting people, cost of living, finding a home and more.
What do I need to know before moving to Mons?
When we asked people what advice they would give someone preparing to move to Mons, they said:
"Mons is a city in the Wallonia region of Belgium, where French is the primary language, so learning some basic French phrases would be beneficial. The city is known for its rich history, beautiful architecture, and vibrant cultural scene, including the annual Doudou festival. The cost of living in Mons is relatively affordable compared to other European cities, but it's still important to budget carefully. The city has a good public transportation system, but many locals prefer to walk or bike due to the city's small size. Mons is home to SHAPE (Supreme Headquarters Allied Powers Europe), so there is a large international community, making it easier for expats to settle in. The city is also home to the University of Mons, which brings a youthful and vibrant atmosphere to the city. Healthcare in Belgium is of a high standard, but it's important to have health insurance as medical costs can be high. It's also worth noting that Belgium has a high tax rate, which can affect your take-home pay. Belgian cuisine is a highlight of living in Mons, with local specialties including beer, chocolate, and waffles. The city also has a variety of restaurants offering international cuisine. The weather in Mons is temperate, with mild summers and cool winters. It can be quite rainy, so it's a good idea to always carry an umbrella. Belgians are known for their directness and can sometimes come across as reserved. However, they are also known for their hospitality and friendliness once you get to know them. Finally, it's important to note that Belgium has a complex political structure with power divided between the federal government and the regions, which can sometimes make administrative tasks more complicated," wrote a member in Mons.
How do I find a place to live in Mons?
About the Author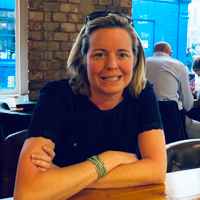 Betsy Burlingame is the Founder and President of Expat Exchange and is one of the Founders of Digital Nomad Exchange. She launched Expat Exchange in 1997 as her Master's thesis project at NYU. Prior to Expat Exchange, Betsy worked at AT&T in International and Mass Market Marketing. She graduated from Ohio Wesleyan University with a BA in International Business and German.
Some of Betsy's articles include 12 Best Places to Live in Portugal, 7 Best Places to Live in Panama and 12 Things to Know Before Moving to the Dominican Republic. Betsy loves to travel and spend time with her family. Connect with Betsy on LinkedIn.