Moving to Minturno, Italy
Last updated on Dec 28, 2022
Summary: Moving to Minturno, Italy? Expats talk about what you need to know before moving to Minturno.
What do I need to know before moving to Minturno?
When we asked people what advice they would give someone preparing to move to Minturno, they said:
"We moved over a 3 year period giving us time to adjust 2 weeks at a time. We brought only things meaningful (family items), clothes, some small furniture items and will continue bringing things such as art work each trip we return to/from US. Find a place where the people seem helpful and friendly. Very few speak English here, but we found some wonderful people from the beginning that welcomed us and helped convince us that this was home. You shouldn't feel completely comfortable - this is an adventure. That said, we found a small town in a semi- rural community much like we were use to in the US. We found beauty and the targets we had identified - railway, sea, mountains, nature preserves, archeology and great food," remarked another expat who made the move to Minturno.
How do I find a place to live in Minturno?
We asked expats how they chose their neighborhood and found a place to live. They answered:
"Searched the internet for months before arrival to become familiar with the area. Stumbled upon our purchase by accident at our first visit.," commented one expat who made the move to Minturno.
What is a typical expat home or apartment like in Minturno?
"Apartment, there is only one other expat couple in town and they followed us here," remarked another expat who made the move to Minturno.
What is the average cost of housing in Minturno?
If you are thinking about moving to Minturno, cost of living in probably a key consideration. Expats commented about the cost of housing:
"Lower cost for initial purchase. Check the internet real estate sites. Cost is based on location and housing requirement just like anywhere. We downsized a bit in the process as part of a life plan," added another expat who made the move to Minturno.
Should I buy or rent a home in Minturno?
If you have not spent a lot of time in Minturno, you should rent before even thinking about buying. We asked expats there about the buy vs. rent decision:
"We paid an attorney in Rome to ensure that the process was easy. He was expensive, but well worth the money. Without good language skills one is at the mercy of the system. Our attorney stood the ground for us when necessary," said another expat in Minturno.
What should I pack when moving to Minturno?
We asked people living in Minturno to list three things they wish they had brought and three they wish they had left behind. They responded:
"Wish we had brought: 4 foot level, zip lock freezer bags, Hersheys cocoa powder. We didn't really bring anything non-essential or without meaning," remarked another expat in Minturno, Italy.
About the Author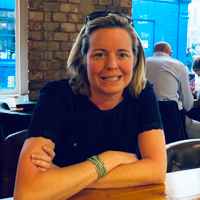 Betsy Burlingame is the Founder and President of Expat Exchange and is one of the Founders of Digital Nomad Exchange. She launched Expat Exchange in 1997 as her Master's thesis project at NYU. Prior to Expat Exchange, Betsy worked at AT&T in International and Mass Market Marketing. She graduated from Ohio Wesleyan University with a BA in International Business and German.
Some of Betsy's articles include 12 Best Places to Live in Portugal, 7 Best Places to Live in Panama and 12 Things to Know Before Moving to the Dominican Republic. Betsy loves to travel and spend time with her family. Connect with Betsy on LinkedIn.