George, South Africa
Last updated on Jul 10, 2023
Summary: Expats, digital nomads and retirees talk about what it is really like living in George, South Africa. They offer advice about meeting people, cost of living, finding a home and more.
What do I need to know before moving to George?
When we asked people what advice they would give someone preparing to move to George, they said:
"George, is a city located in the Western Cape Province and is known for its scenic beauty and outdoor activities. Before moving to George, expats should know that the official language is Afrikaans, but English is widely spoken and understood. The city has a Mediterranean climate with mild, moderately wet winters and dry, warm summers. George is a relatively safe city compared to other South African cities, but expats should still take standard precautions to ensure their safety. The cost of living in George is relatively low compared to other major cities in South Africa, making it an attractive option for expats. The city has a well-developed infrastructure, with good road networks, reliable public transport, and a regional airport. Healthcare in George is of a high standard, with both public and private hospitals available. The city is home to several good schools, making it a suitable place for expats with children. George is known for its outdoor activities, including golfing, hiking, and surfing, so it's a great place for those who love nature and sports. The city is also home to a diverse food scene, with a variety of restaurants offering both local and international cuisine. Expats should be aware of the local customs and traditions, as South Africa is a diverse country with a rich cultural heritage. It's also important to understand the local laws and regulations, particularly those related to visas and work permits. Finally, expats should be prepared for potential culture shock and take steps to integrate into the local community, such as learning the local language and participating in local events and activities," commented one expat who made the move to George.
How do I find a place to live in George?
About the Author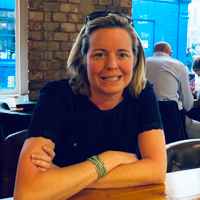 Betsy Burlingame is the Founder and President of Expat Exchange and is one of the Founders of Digital Nomad Exchange. She launched Expat Exchange in 1997 as her Master's thesis project at NYU. Prior to Expat Exchange, Betsy worked at AT&T in International and Mass Market Marketing. She graduated from Ohio Wesleyan University with a BA in International Business and German.
Some of Betsy's articles include 12 Best Places to Live in Portugal, 7 Best Places to Live in Panama and 12 Things to Know Before Moving to the Dominican Republic. Betsy loves to travel and spend time with her family. Connect with Betsy on LinkedIn.