Knysna, South Africa
Last updated on Jul 10, 2023
Summary: Expats, digital nomads and retirees talk about what it is really like living in Knysna, South Africa. They offer advice about meeting people, cost of living, finding a home and more.
What do I need to know before moving to Knysna?
When we asked people what advice they would give someone preparing to move to Knysna, they said:
"Knysna, is a beautiful coastal town known for its stunning landscapes, including the iconic Knysna Heads and indigenous forests. The town has a mild climate, with warm summers and cool winters, making it a comfortable place to live year-round. English is widely spoken in Knysna, but learning a few phrases in Afrikaans or Xhosa can be beneficial. The cost of living in Knysna is relatively low compared to other major cities in South Africa, but it's higher than in many rural areas. Housing can be quite affordable, especially if you're willing to live a bit outside of the town center. The town has a good infrastructure with reliable utilities, but power outages can occur, so it's advisable to have a backup generator. Knysna has a laid-back lifestyle and is a popular destination for retirees. The town offers a range of outdoor activities, including hiking, sailing, and golfing. It's also home to several annual events, such as the Knysna Oyster Festival and the Knysna Forest Marathon. Healthcare in Knysna is of a good standard, with several private and public hospitals and clinics in the area. However, it's recommended to have comprehensive health insurance as medical costs can be high. The town is also in a malaria-free zone, so there's no need for malaria prophylaxis. Crime can be a concern in South Africa, and while Knysna is generally safer than larger cities, it's still important to take precautions. Always lock your doors and windows, avoid walking alone at night, and be aware of your surroundings. Public transportation in Knysna is limited, so having a car is almost essential. The town is also quite spread out, so walking or biking can be challenging. Driving in South Africa is on the left-hand side of the road, and international driving permits are accepted. The education system in South Africa follows the CAPS curriculum, and there are several good schools in Knysna. However, spaces can be limited, so it's advisable to apply as early as possible. There are also several international schools in the nearby city of George. South Africa has strict immigration laws, and you'll need a valid visa to live in Knysna. The process can be complex and time-consuming, so it's advisable to seek professional advice. It's also important to note that South Africa has a high unemployment rate, and jobs can be hard to find for expats," remarked one expat living in Knysna, South Africa.
How do I find a place to live in Knysna?
About the Author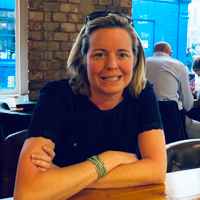 Betsy Burlingame is the Founder and President of Expat Exchange and is one of the Founders of Digital Nomad Exchange. She launched Expat Exchange in 1997 as her Master's thesis project at NYU. Prior to Expat Exchange, Betsy worked at AT&T in International and Mass Market Marketing. She graduated from Ohio Wesleyan University with a BA in International Business and German.
Some of Betsy's articles include 12 Best Places to Live in Portugal, 7 Best Places to Live in Panama and 12 Things to Know Before Moving to the Dominican Republic. Betsy loves to travel and spend time with her family. Connect with Betsy on LinkedIn.