Stellenbosch, South Africa
Last updated on Jul 10, 2023
Summary: Expats, digital nomads and retirees talk about what it is really like living in Stellenbosch, South Africa. They offer advice about meeting people, cost of living, finding a home and more.
What do I need to know before moving to Stellenbosch?
When we asked people what advice they would give someone preparing to move to Stellenbosch, they said:
"Stellenbosch is a town in the Western Cape province of South Africa, known for its scenic beauty, wine vineyards, and prestigious university. The official language is Afrikaans, but English is widely spoken and understood. The cost of living in Stellenbosch is relatively lower compared to other major cities in South Africa, but it's higher than the national average due to its status as a university town and tourist destination. The town has a Mediterranean climate with hot, dry summers and cool, wet winters. It's advisable to have health insurance as private healthcare in South Africa is expensive, and public healthcare can be unreliable. Stellenbosch is generally safe, but like any other place, it's important to be cautious and aware of your surroundings, especially at night. The town is known for its wine industry, so wine tasting and vineyard tours are popular activities. The Stellenbosch University is one of the top universities in Africa, attracting students from all over the world. The town has a vibrant arts scene, with numerous galleries, theaters, and music venues. Public transportation is limited, so having a car is beneficial, but the town is also very walkable. The food scene in Stellenbosch is diverse, with a mix of local and international cuisines. The town is also close to Cape Town, making it easy to explore the larger city and its attractions. It's important to understand the local customs and etiquette, such as greeting people with a handshake and maintaining eye contact during conversations. South Africans are generally friendly and welcoming, but it's also a diverse country with a complex history, so sensitivity towards cultural differences is appreciated. Lastly, it's advisable to secure accommodation before moving, as the demand for housing can be high due to the university students and tourists," wrote a member in Stellenbosch.
How do I find a place to live in Stellenbosch?
About the Author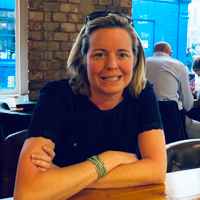 Betsy Burlingame is the Founder and President of Expat Exchange and is one of the Founders of Digital Nomad Exchange. She launched Expat Exchange in 1997 as her Master's thesis project at NYU. Prior to Expat Exchange, Betsy worked at AT&T in International and Mass Market Marketing. She graduated from Ohio Wesleyan University with a BA in International Business and German.
Some of Betsy's articles include 12 Best Places to Live in Portugal, 7 Best Places to Live in Panama and 12 Things to Know Before Moving to the Dominican Republic. Betsy loves to travel and spend time with her family. Connect with Betsy on LinkedIn.