Hermanus, South Africa
Last updated on Jul 09, 2023
Summary: Expats, digital nomads and retirees talk about what it is really like living in Hermanus, South Africa. They offer advice about meeting people, cost of living, finding a home and more.
What do I need to know before moving to Hermanus?
When we asked people what advice they would give someone preparing to move to Hermanus, they said:
"Hermanus is a popular destination for expats due to its stunning natural beauty, including its famous whale-watching opportunities. Before moving to Hermanus, it's important to understand that while English is widely spoken, Afrikaans is the primary language. The cost of living is relatively low compared to many Western countries, but it's still important to budget carefully and consider the cost of imported goods. Healthcare in Hermanus is of a high standard, with both public and private hospitals available. However, expats are advised to have comprehensive health insurance as private healthcare can be expensive. The crime rate in Hermanus is lower than in larger South African cities, but expats should still take precautions to ensure their safety, such as avoiding certain areas at night and installing home security systems. The climate in Hermanus is Mediterranean, with mild, wet winters and warm, dry summers. It's important to be prepared for this, particularly if you're moving from a colder climate. The town is also known for its outdoor lifestyle, with plenty of opportunities for hiking, surfing, and other outdoor activities. Hermanus has a strong sense of community, and newcomers are often welcomed with open arms. However, it's important to respect local customs and traditions. The education system in Hermanus is of a high standard, with a number of excellent schools to choose from. However, spaces can be limited, so it's advisable to apply as early as possible. Finally, while Hermanus offers a slower pace of life than many cities, it's still important to be prepared for the potential challenges of living in a new country, such as culture shock and homesickness. It's also worth noting that while Hermanus is a popular tourist destination, it can be quiet during the off-peak season," wrote one member in Hermanus.
How do I find a place to live in Hermanus?
About the Author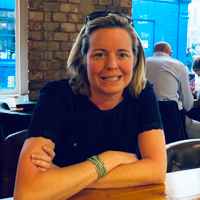 Betsy Burlingame is the Founder and President of Expat Exchange and is one of the Founders of Digital Nomad Exchange. She launched Expat Exchange in 1997 as her Master's thesis project at NYU. Prior to Expat Exchange, Betsy worked at AT&T in International and Mass Market Marketing. She graduated from Ohio Wesleyan University with a BA in International Business and German.
Some of Betsy's articles include 12 Best Places to Live in Portugal, 7 Best Places to Live in Panama and 12 Things to Know Before Moving to the Dominican Republic. Betsy loves to travel and spend time with her family. Connect with Betsy on LinkedIn.