East London, South Africa
Last updated on Jul 10, 2023
Summary: Expats, digital nomads and retirees talk about what it is really like living in East London, South Africa. They offer advice about meeting people, cost of living, finding a home and more.
What do I need to know before moving to East London?
When we asked people what advice they would give someone preparing to move to East London, they said:
"East London, is a city with a rich history and a diverse culture, offering a unique blend of urban life and natural beauty. Before moving, expats should know that English is widely spoken in East London, but understanding some basic phrases in Xhosa, the local language, can be beneficial. The cost of living in East London is relatively low compared to other major cities in South Africa, but expats should be prepared for a different standard of living. The city has a subtropical climate, with mild winters and warm summers, so lightweight clothing is recommended for most of the year. Public transportation in East London is not as developed as in other major cities, so having a car can be beneficial. The city is generally safe, but like any other city, it has areas that are best avoided, especially at night. Healthcare facilities in East London are adequate, with several hospitals and clinics available, but private health insurance is recommended. The city offers a variety of housing options, from apartments in the city center to houses in the suburbs, but it's advisable to secure a place to live before moving. East London has a variety of international and local schools, but it's important to research and secure a spot for your children ahead of time. The city has a vibrant food scene, with a mix of traditional South African cuisine and international options. East London is home to several beautiful beaches and natural reserves, offering plenty of outdoor activities. The city has a slower pace of life compared to other major South African cities, which can be a welcome change for some expats. It's important to understand and respect the local customs and traditions, as South Africa is a country with a diverse culture. Finally, expats should be prepared for the possibility of power outages, as they can occur occasionally in South Africa," explained one expat living in East London, South Africa.
How do I find a place to live in East London?
About the Author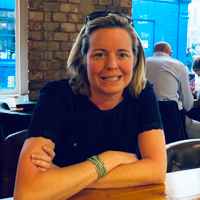 Betsy Burlingame is the Founder and President of Expat Exchange and is one of the Founders of Digital Nomad Exchange. She launched Expat Exchange in 1997 as her Master's thesis project at NYU. Prior to Expat Exchange, Betsy worked at AT&T in International and Mass Market Marketing. She graduated from Ohio Wesleyan University with a BA in International Business and German.
Some of Betsy's articles include 12 Best Places to Live in Portugal, 7 Best Places to Live in Panama and 12 Things to Know Before Moving to the Dominican Republic. Betsy loves to travel and spend time with her family. Connect with Betsy on LinkedIn.