St Francis Bay, South Africa
Last updated on Jul 10, 2023
Summary: Expats, digital nomads and retirees talk about what it is really like living in St Francis Bay, South Africa. They offer advice about meeting people, cost of living, finding a home and more.
What do I need to know before moving to St Francis Bay?
When we asked people what advice they would give someone preparing to move to St Francis Bay, they said:
"St Francis Bay is a small, coastal town in the Eastern Cape province of South Africa, known for its picturesque canals and white-walled thatched houses. The town is a popular holiday destination, but also has a small, tight-knit community of permanent residents, including a number of expats. Before moving to St Francis Bay, it's important to understand that the cost of living can be higher than in other parts of South Africa due to its status as a holiday town. However, this also means that the town has a range of amenities, including shops, restaurants, and leisure facilities. The town is relatively safe compared to larger South African cities, but crime can still be an issue, particularly petty theft. It's advisable to take standard precautions such as locking doors and windows, and not leaving valuables in plain sight. St Francis Bay has a mild climate, with warm summers and cool, wet winters. The town is particularly popular with surfers, thanks to its consistent waves and beautiful beaches. Healthcare facilities in St Francis Bay are good, with a number of doctors and a hospital in the nearby town of Humansdorp. However, serious medical conditions may require travel to a larger city such as Port Elizabeth. The town has a number of schools, but options may be limited for those seeking an international curriculum. Public transport is limited in St Francis Bay, so a car is almost essential for getting around. The town is around an hour's drive from Port Elizabeth, which has the nearest airport. Finally, while English is widely spoken in St Francis Bay, learning some Afrikaans can be beneficial as it is the first language of many locals," said one expat in St Francis Bay.
How do I find a place to live in St Francis Bay?
About the Author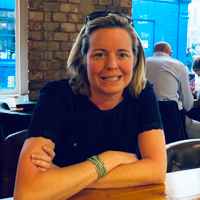 Betsy Burlingame is the Founder and President of Expat Exchange and is one of the Founders of Digital Nomad Exchange. She launched Expat Exchange in 1997 as her Master's thesis project at NYU. Prior to Expat Exchange, Betsy worked at AT&T in International and Mass Market Marketing. She graduated from Ohio Wesleyan University with a BA in International Business and German.
Some of Betsy's articles include 12 Best Places to Live in Portugal, 7 Best Places to Live in Panama and 12 Things to Know Before Moving to the Dominican Republic. Betsy loves to travel and spend time with her family. Connect with Betsy on LinkedIn.