Real Estate in Rome
Last updated on Jan 04, 2023
Summary: People living in Rome, Italy offer advice about real estate. How do you find a home in Rome? Should you buy or rent? What is the cost of housing?
How do I find a place to live in Rome?
We asked expats how they chose their neighborhood and found a place to live. They answered:
"Searching for a place to live in Rome can be an intimidating process, but with a bit of research and some creative thinking, you can find the right place to call home. Start by researching the different neighborhoods of Rome, as this will help you pinpoint which parts of the city would be the right fit for you. Consider what type of rental you're looking for—whether it's an apartment, townhouse, or house—and keep your budget in mind. Online resources such as real estate websites and apps are great tools to browse listings, making it easier to compare prices and see which areas offer the best rental options for you. You can also look for rental agencies or outreach services, as these can provide useful guidance and resources for finding an accommodation. Finally, don't forget to network with friends and contacts who may live in the area or know someone who can help you find the right place," remarked another member in Rome.
"My husband and I looked at over 35 apartments before finally finding the "right" one. We used leasing agents. We lived in a corporate apartment for 3 months and walked around/drove around a lot looking at the buildings and neighborhoods. A lot of the apartments we saw were too dark, the spaces were all cut up into smaller areas, weren't big enough, no elevator available (big consideration when you have small children), etc," explained one expat living in Rome, Italy.
What is a typical expat home or apartment like in Rome?
"Expat homes in Rome are typically spacious and centrally located. Most are apartments, but some are also houses. Nearby residential neighborhoods are typically full of family-owned restaurants, cafes, markets and small shops, giving expats an opportunity to immerse themselves in the local culture. Rome's public transportation system is usually nearby as well, making it easy to get around the city. Interiors typically feature modern furnishings, with an Italian influence, often incorporating stylish contemporary designs combined with antiques or furnishings inherited by the prior owners. Many expat homes offer beautiful outdoor terraces where residents can entertain guests or enjoy a meal outdoors," explained one expat living in Rome, Italy.
"We live in a 2 bedroom, 2 bathroom (140 square meter) apartment with 3 separate balconies. This is typical for the type of housing available in the city. A little further out of the center, you can find "villinos" which are like townhouses or even villas with gardens. Apartments here are either furnished or unfurnished. In an unfurnished apartment, you may even have to provide your own lights, kitchen appliances and counters," said another person in Rome.
What is the average cost of housing in Rome?
If you are thinking about moving to Rome, cost of living in probably a key consideration. Expats commented about the cost of housing:
"The cost of housing in Rome varies depending on the neighbourhood and type of accommodation. Generally, the average cost for a one-bedroom apartment is around €900-1200 per month, while a three-bedroom apartment usually runs around €1400-2500 per month," said another person in Rome.
"Housing costs are much higher here than where we used to live outside of Seattle, WA. We pay 2077 euros a month for our apartment. This is probably a little below average as our apartment is on the 1st floor. The higher you go up in floors, the higher the rent. We only paid $1500 in a mortgage payment when we lived in Washington State," added another expat who made the move to Rome.
Should I buy or rent a home in Rome?
If you have not spent a lot of time in Rome, you should rent before even thinking about buying. We asked expats there about the buy vs. rent decision:
"Deciding whether to buy or rent a home in Rome depends on your individual circumstances. If you plan to stay in Rome for a long term, it could be more financially beneficial to buy a property since rentals can be expensive. Additionally, purchasing a home can help you to build long-term wealth and stability. On the other hand, if you are likely to stay in Rome for a shorter period of time, renting may be a better option as it may be difficult to sell a property quickly. Furthermore, renting allows you to have more flexibility and gives you the opportunity to explore different neighborhoods before settling in one. Ultimately, the decision to buy or rent a home in Rome depends on your individual needs and preferences," said another expat in Rome.
About the Author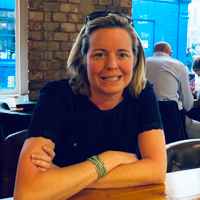 Betsy Burlingame is the Founder and President of Expat Exchange and is one of the Founders of Digital Nomad Exchange. She launched Expat Exchange in 1997 as her Master's thesis project at NYU. Prior to Expat Exchange, Betsy worked at AT&T in International and Mass Market Marketing. She graduated from Ohio Wesleyan University with a BA in International Business and German.
Some of Betsy's articles include 12 Best Places to Live in Portugal, 7 Best Places to Live in Panama and 12 Things to Know Before Moving to the Dominican Republic. Betsy loves to travel and spend time with her family. Connect with Betsy on LinkedIn.