Ireland Index
More Articles about Ireland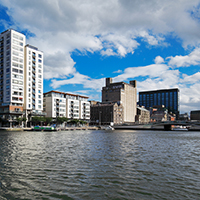 5 Tips for Tech Jobs in Dublin
Expats in the tech industry in Dublin live in one of the most vibrant tech economies in the world. Ireland's favorable tax policies and other factors have made "Silicon Docks" a magnet for tech firms of all sizes.
How an Expat Retiree Fought to Stay in Ireland
Expat retirees David and Maura Woods were given 7 days notice to leave Ireland. David shares his story, why they were asked to leave, and how they found a way to stay in the adoptive land they love.
Dublin Rentals
Renting in Dublin is similar to renting in the United States, but there are some differences. Author Christina McDonald advises how to find a rental, the current rental market, the lease process and more.
Suburban Dublin
If you're moving to Dublin and considering settling in suburban Dublin, author Christina McDonald offers and overview of a number of good suburbs.
Property in Ireland
From a lack of national property listings to arranging financing, buying property in Ireland presents some challenges. Author Christina McDonald provides tips and insight into the process of buying a home in Ireland.