Expat Jamaica: An Interview with Mike Miville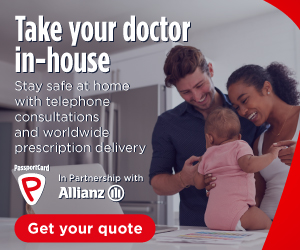 Summary: An Expat Interview with Mike Miville, an expat helping to find long-term sources of water in Jamaica.
While in Jamaica this past fall, we had the good fortune to spend part of an evening with Michael Miville. Mike's company, BEAD, utilizes new technology to find previously undetectable, long-term sources of water.
Mike's stories and anecdotes so entertained us that we had to ask him to be one of the first few participants in our new expat interview series. Mike graciously agreed, and so we're happy to be able to present Mike's story, his experiences, and his thoughts on all kinds of topics related to life as an expat.
Where are you from originally?
Toronto, Canada
What was life like for you growing up?
I attended St. Michael's College in Toronto, which, besides being an excellent educational facility, had a tremendous sports program, including football and hockey. Students would come from all over Canada to play for the teams. Canada, as a country, has five distinct cultures, ranging from East to West. As a result, my interest was continually piqued about other areas in Canada as well as the United States.
Did these experiences contribute to your desire to live and/or work abroad?
Yes
Are there other experiences that contributed to your desire to live and/or work abroad?
We built a telephone company and sold it to British Telecom and the interaction with the Brits and their distinct culture and mannerisms laid the foundation for me to eventually pursue projects that would take me abroad.
What are the personality traits you possess that make being an expat a good fit for you?
Curiosity about all facets of life, including different cultures; empathy for others.
Are there ever times when you find it hard to be flexible?
Not in the least because flexibility is the key to survival and/or enjoyment in other cultures.
When is expat life uncomfortable for you?
I cannot say that it is uncomfortable because I adapt quickly to new situations, which is important.
Can you briefly summarize your career experience, especially the experience(s) that led you to being an expat?
I have been a serial entrepreneur since College. In 2003 my partner and I heard about a technology that could find fresh water, which we knew was a resource that had limitations. In building the business model it became quickly apparent that the only application for such technologies would be in developing countries because the heads of government could make the decision to go forward on a project. In North America the business would be extremely difficult as there were several major issues to resolve: Who owns the land, and there are federal, municipal and state regulations that serve to block progress as well as existing water companies that do not want any infringement on their turf. So, we targeted the Caribbean and Africa as two possibilities and eventually won our first contract at Nevis in 2008.
How would you contrast your earlier experiences with your time abroad? Are they in any way similar?
The difference from my earlier business experience is the time frame to complete a project. One must have significant patience while working in developing countries and one must assimilate into the culture as quickly as possible because one's life experience will be greatly enhanced. As well, business in developing countries has many more formalities. The only similarity is the quality of business persons with whom we exchange information. Most are very well educated and well trained in their professions.
What are your favorite aspects of life in Jamaica as an expat?
The laid back and fun loving nature of the people, the acceptance of an expat by the people and the quality of life is excellent. Music and sports are the backbone of the country and every single Jamaican is so passionate about their stars and even the individuals who have not yet achieved global status. Such a small country has produced world class track and field athletes, founded Reggae music, which is global in nature. Recently, Tessane Chin won the competition on the nationally acclaimed American TV program, The Voice. Additionally, each of Jamaica's global torch bearers are just "regular" people in Jamaica and each constantly can be found in their villages. The world wide "celebrity" phenomenon does not exist with the Jamaican people because of their respect for others.
What aspects of Jamaican culture appeal to you most?
Besides the above, the native cuisine is excellent with such specialty dishes, such as Jerk Chicken and Pork, Flying Fish, ackee, etc.
What are your least favorite aspects of life in Jamaica as an expat?
Like most North Americans or Europeans one does miss the Gigantic Mall experience now and then but not enough, believe me, to leave. There are additional minor inconveniences, such as power outages, and water shortages but one does adjust accordingly and these are definitely minor. I do not miss the massive traffic jams in North America.
Can you discuss the importance of finding water in Jamaica and other places like it?
Fresh water is life and it is most important for health and the sustenance of life. Jamaica is one of the fortunate countries that has the correct topology and geology, coupled with enough rainfall and good fractured rock, that gives the country the opportunity, by utilizing BEAD's groundwater development technologies, to create sustainable, rechargeable, long-term water availability for hundreds of years.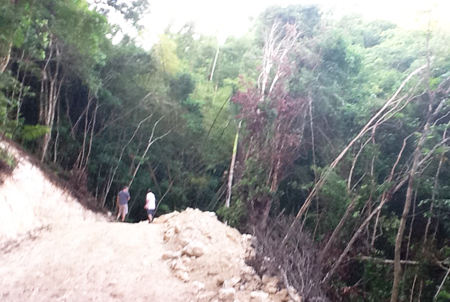 How is it rewarding?
It is extremely rewarding because populations can flourish with 24/7 water availability, thereby encouraging more farming/local produce and reducing health hazards created by the lack of water.
What are the greatest challenges?
The greatest challenge is having the Prime Minister or President of a country take control of his/her water development situation and making the decision to go forward. Once BEAD has signed an agreement the company proceeds in a step-by-step fashion to successfully locate, drill and deliver the groundwater into the exiting water infrastructure of the country.
What do you miss about Jamaica when you travel elsewhere? How much do you travel in general?
I miss the camaraderie and the overall positive nature of the people, the beauty of the mountains and the general relaxed feeling that one has when living in the country.
What were your funniest experiences either traveling or as an expatriate?
There are many. While in the washroom on a flight I could not open the door because a gentleman had a heart attack outside the door and was blocking my exit.
Being mistaken several times for Neil Diamond and people becoming enraged because I would not sign a napkin so I just signed!
Approaching a taxi on a dirt road in the mountains of Ghana and noticing a Rastafarian in the back seat. Unbeknown to me Rita Marley has a large estate in the mountains where she spends six months a year and has her recording studio. The Rastafarian was visiting her for a recording session.
Having the owner of the original TAO restaurant (there are several in America - one in New York City featuring a large Buddha out front) in Tenerife bring in a rhythm and blues band for me to sing with one evening.
What was the most nerve-wracking experience either traveling or as an expatriate?
Two crash landings into foamed runways, both because the nose wheel had not dropped and my first flight into Canefield, Dominica. When the single engine plane reaches a large Piton it drops about 100 feet, so experienced pilots only must fly into that destination.
You've been to some exotic locations... what do you do to ensure your safety? What advice would you give to others?
Study the country ahead of time, contact local very connected people and, if required, make sure that I take all of the vaccinations that will guard against malaria, dengue fever, yellow fever, etc.
Also, study the currency exchange because there are wide fluctuations from country to country.
Wear a money/passport pouch that is strapped under your pants to your upper leg. Do not flash money in public. Only take one credit card when you dine and limited cash. Instead of renting a vehicle hire a driver for the day because they are quite reasonable and negotiate, negotiate, negotiate - it is ingrained into each culture.
Do friends or relatives ever join you in your expat/travel adventures?
Occasionally
Can you share some specific examples of your most memorable experiences traveling with friends and relatives?
Meeting several celebrities at different points in time, such as Jennifer Hudson, Beenie Man, Shaggy, Damian Marley, etc; Helicoptering over St. Lucia to have a first hand look at the geology; Having a total mud bath in the volcanic mud of St. Lucia, after which one's skin feels like satin; Visiting the "boiling lake" in Dominica.
Visiting the "slave castles", which are on the beach in Ghana (very emotional experience). Africans hunted the strongest Africans, captured them, placed them in these slave castles and sold them to America and Europe and only 50% survived the arduous journey.
Dinner at Sunshine's on the beach in Nevis (Sunshine is a squatter who developed a global following with his fish and chicken platters and is an important part of the tourism fabric in the country - the government had to cede him the property because of his notoriety, especially with hundreds of celebrities who visit the island.
What advice would you offer to an expat moving to Jamaica? What are common mistakes that expats make?
Slowly integrate oneself into the culture of the country and stay low key because you are the foreigner (visitor). Embrace the culture and become a part of it. Do not shy away from any of the customs because they are the foundations of the country. Expats sometimes have a condescending attitude that not even they can comprehend. Do not come, if this is the case, because natives will sense phonies in a heartbeat and take advantage of you bigtime. Expats have a tendency to flash money and to be loud and rude. Do not make the visit.
Expat life may not be for everyone... what are some personality traits that might be a red flag for someone considering moving abroad?
Type A personalities will have a difficult time adjusting. Impatient persons should not even visit because life slows down immensely in developing nations and an impatient person will be on edge forever. If one is frustrated with bureaucracy stay away because the red tape can be second to none.
About the Author

Joshua Wood, LPC joined Expat Exchange in 2000 and serves as one of its Co-Presidents. He is also one of the Founders of Digital Nomad Exchange. Prior to Expat Exchange, Joshua worked for NBC Cable (MSNBC and CNBC Primetime). Joshua has a BA from Syracuse and a Master's in Clinical and Counseling Psychology from Fairleigh Dickinson University. Mr. Wood is also a licensed counselor and psychotherapist.
Some of Joshua's articles include Pros and Cons of Living in Portugal, 10 Best Places to Live in Ireland and Pros and Cons of Living in Uruguay. Connect with Joshua on LinkedIn.
Comments
ladylulu
Really enjoyed this article. The writer has shown how to integrate into a new community. I am wondering if he moved to Jamaica with a partner/family or by himself?