Moving to the UAE
Last updated on Feb 15, 2023
Summary: Expats and digital nomads move to UAE for its tax-free income, modern infrastructure, and high quality of life. The most popular cities for expats and digital nomads in UAE are Dubai, Abu Dhabi, and Sharjah. People can find a place to live in UAE by searching online for rental properties, using a real estate agent, or asking friends and family for recommendations.
What do I need to know before moving to the UAE?
When we asked people what advice they would give someone preparing to move to the UAE, they said:
"Before moving to the UAE, expats should be aware of the local laws and customs. It is important to respect the local culture and dress modestly in public. Expats should also be aware of the cost of living in the UAE, as it is generally higher than in other countries. Additionally, expats should research the job market and the availability of housing in the area they are moving to. Finally, expats should make sure to obtain the necessary visas and permits before arriving in the UAE," commented one expat who made the move to UAE.
"Make sure you negotiate with your employer to cover your accommodation or include high accommodation allowance. Living in a compound in a villa is the best choice - one can find many European expatriates to be among with," remarked one expat in Abu Dhabi, UAE.
Answer Question & View More Answers
How do I find a place to live in the UAE?
Answer Question & View More Answers

Expat Health Insurance in UAE
Expats interested in International Health Insurance should take a minute to get a quote from our trusted expat health insurance partner, CIGNA.
GET A QUOTE
Answer Question & View More Answers
About the Author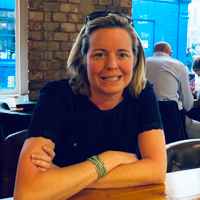 Betsy Burlingame is the Founder and President of Expat Exchange and is one of the Founders of Digital Nomad Exchange. She launched Expat Exchange in 1997 as her Master's thesis project at NYU. Prior to Expat Exchange, Betsy worked at AT&T in International and Mass Market Marketing. She graduated from Ohio Wesleyan University with a BA in International Business and German.
Some of Betsy's articles include 12 Best Places to Live in Portugal, 7 Best Places to Live in Panama and 12 Things to Know Before Moving to the Dominican Republic. Betsy loves to travel and spend time with her family. Connect with Betsy on LinkedIn.