What advice do you have for expats having a baby in Germany?
We asked expat moms who gave birth in Germany about their experiences and advice they have for other moms to be. They said...
"As Germany can be a difficult and challenging place to live as an expat, it is important to plan ahead before having a baby here. Make sure to research and understand the maternity leave and benefits available to you, such as parental leave or the Elternzeit, as well as health insurance. Use networks, such as English-language online forums and expat groups, to connect with other parents who are also in Germany for support. Additionally, familiarize yourself with healthcare services in the region, such as midwives, obstetricians and pediatricians, so that you can make the best decisions for your pregnancy care and baby's health. Last but not least, take time to check out baby supplies and clothing stores to stock up in advance," remarked another expat who made the move to Germany.
"Leave the country or go private and be a complete prima donna about the whole thing as only then might your experience be ok," explained one expat living in Ludwigsberg, Germany.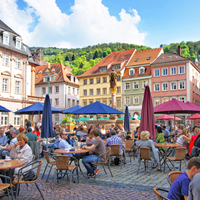 Furnished Rentals in Germany from Homelike
We've partnered with Homelike, to connect expats and newcomers with temporary accommodations in Germany. If you're moving to Germany, rent a short-term, furnished apartment or home for the first few months from Homelike and take your time figuring out the best place to live in Germany.
SEARCH RENTALS
Other Questions:
What advice do you have for expats having a baby in Germany?
If you live in Germany, newcomers to Germany would love to hear your answer to this question.
About the Author

Joshua Wood, LPC joined Expat Exchange in 2000 and serves as one of its Co-Presidents. He is also one of the Founders of Digital Nomad Exchange. Prior to Expat Exchange, Joshua worked for NBC Cable (MSNBC and CNBC Primetime). Joshua has a BA from Syracuse and a Master's in Clinical and Counseling Psychology from Fairleigh Dickinson University. Mr. Wood is also a licensed counselor and psychotherapist.
Some of Joshua's articles include Pros and Cons of Living in Portugal, 10 Best Places to Live in Ireland and Pros and Cons of Living in Uruguay. Connect with Joshua on LinkedIn.