Retire in Ireland
Last updated on Nov 27, 2021
Summary: Retirees share their experiences living in Ireland. What are the challenges and rewards of retiring in Ireland?
What is it like to retire in Ireland?
"Tobercurry is truly amazing for the small country type town that it is. There is a high level of attention to the arts, annual Drama festivals, Annual summer music school and performances, hiking trails, boating, everything a nature lover could seek. Nightlife during festivals is abundant and almost every night, all year long, one of the local pubs host a musician or poet for reading. The "Craic" is plentiful (gatherings to chat) and at times very lively," explained one retiree living in Tobercurry.
"Tobercurry is a rural, mostly farming, type of close knit community. A story told at one end of town will reach the other end before you do. The wonder of this community is the terrific support for one another. There are top tier cultural events like the Springtime Annual Drama Festival, Summer Country Fair Day, weekly musical and other cultural events hosted by local businesses, guest houses and hotels, and pubs that appeal to everyone from across many countries," said another retiree in living in Tobercurry, Ireland.
Answer Question & View More Answers
What advice do overseas retirees have for others considering retiring abroad?
"As an expat, we can only recommend doing as much diligent research as possible. Try to seek advice from others who have done this as nothing helps more than a connection and advice about their trial and errors," explained one retiree living in Tobercurry.
What are the most challenging aspects of retiring in Ireland?
"Honestly, because we are very sensitive to new cultures and do all we can to blend in, basically casting aside preconceived notions and limiting our "but in America" phrases we were warmly welcomed by all. Ireland is truly made of people who know hardship and having ancestors who left during really bad times they respect others who come to this country. No, we have not felt challenged," said another retiree in Tobercurry.
"One challenge has been hilarious and that is learning new phrases and words for the everyday things. My favorite is wheely bins for US garbage cans. Hubby's favorite is US finches (small birds) here are called tits. He loves telling me to look at all the tits on the feeder! We studied hard facts and expenses before moving, like medical, lodging, auto, transportation, food, to plan a thorough budget to adhere to, but the language trips us up with humor," commented one retiree living in Tobercurry, Ireland.
Answer Question & View More Answers
What are the most rewarding aspects of retiring in Ireland?
"There are so many rewards to having retired to Ireland. We chose the western side for its outstanding beauty and calm, relaxing environment. Medical is amazing and once resident full time, the perks are nearly endless. Research is vital to know what an expat is expected to do to move to Ireland and don't feel foolish asking questions. Never try to beat the system though. Do what is expected and all should go extremely well," said another retiree in Tobercurry.
"Getting to know, and to be welcomed by, so many warm, kind Irish people. Second is the spectacular scenery," commented one retiree living in Tobercurry, Ireland.
Answer Question & View More Answers
What are healthcare services like in Ireland?
We asked retirees if they have access to good medical care in Ireland. They wrote:
"Almost every town or village has a family doctor (GP), readily available, some even making house calls after hours. Once the GP, or vision doctor or dental doctor make a referral to a specialist under the Irish system (most often free) one waits four months for an appointment and forward going procedures. If an emergency, local hospitals provide immediate care. My husband had full hernia surgery under general anesthesia and the cost, out of pocket to us was €1 (yes, a little over a dollar US). The bill amount Ireland covered was only about €1500 compared to multiple thousands of dollars in the US. That included pre and post surgical care and follow up," said a retiree who moved to Tobercurry, Ireland.
"We arrived and immediately found a local GP tp handle everyday needs. An annual check up is €50 and a referral to a specialist has been at zero cost to us. Local hospital is 30-40 minutes from home by lovely bus or car. We purchased a full insurance policy, just in case, for €160 a month," said another retiree in Tobercurry.
How do I meet people in Ireland?
When we asked people living in Ireland about club and activities where newcomers can meet others, they responded:
"Tubbercurry is what we, in the USA, would call a smallish country town but it is packed with things to do and see. One of the outstanding features is the cultural activity surrounding the annual Drama Festival and competition. Very talented actors and writers from the entire country spend days here to rehearse and perform and the shows are delightful. Another is the week long South Sligo Summer School of Traditional Music camp (fest). where students of all ages from all over come to work with consummate professionals to improve their skills or to learn a new one. Included are performances at local pubs and community hall. Tubbercurry is also the home of the Annual August Old Fair Days that lasts five days when folks turn out in the thousands to experience real country atmosphere, crafts, foods, performances, and wonderful community spirit. Tubbercurry folk are some of the warmest, most welcoming to "outsiders" and before you realise it, you're one of the family," said another retiree in Tubbercurry.
"meetup.com has great groups (organized by interests) that get together often. Also, if you're living in Dublin alone, don't be afraid to go out to the pub or out to eat on your own. I'm a major introvert, so pushing myself to actually go sit at a pub alone, with people potentially judging me, was very daunting. But you know what, 4 different people came up and started conversations with me. The 2nd time I did it, I met the guy who is now my boyfriend of six months, and acquired a great group of friends," commented one retiree living in Dublin, Ireland.
Answer Question & View More Answers
What is life like in Ireland?
When we asked people living in Ireland what life is like and how people spend their time, they said:
"As in most communities throughout the world, priorities center on providing for family, religion, discussing global affairs and politics, and of course, sports. Tubbercurry has a GAA pitch and a lovely golf course. There is a newly revamped children's park and excellent walking areas with wonderful beauty," remarked another retiree in Tubbercurry.
"Family life is big. I love to see all the families out on the weekend spending time together in the parks or the sea front (weather providing). Socialising is a big thing as well, and there seems to be a healthy balance between the two. Often times, you'll see kids with their parents in the pub, which still seems so strange to me," said a retiree who moved to Dublin, Ireland.
Answer Question & View More Answers
What do I need to know before retiring in Ireland?
When we asked people what advice they would give someone preparing to move to Ireland, they said:
"Before undertaking any overseas residency, PLAN AND RESEARCH IN ADVANCE! My husband and I had the good fortune to be able to retire in Ireland. I hold dual US-UK citizenship so the move and entrance to Ireland was relatively easy for us. In addition, having direct lineage to an Irish citizen (as writing this, that includes Irish parents or grandparents), makes entrance easier. One must be prepared to provide the documents required of Ireland, including background check, financial means, etc. We spent over a year researching all aspects of living here and obtaining Irish citizenship, which we are working on now due to my grandparents being Irish. The best thing to start is online research: Ireland (or wherever your plans are set) Residency Requirements for expats. Above all else, if coming here, join a group like this and make a friend in advance. It pays to know someone who has walked your path before you. And as they say here... Failte (Welcome)," explained one retiree living in Tubbercurry.
"Make sure your US TV is PALS accessible before bringing it. We were told by electronic company in US we could convert but we can't(TV is too old-bought it in 2003). I would have brought more DVD's to watch as cable movie channel is expensive. But also have to have something to play it on as the DVD system here is regional. Told not to bring snow shovel...but need a scraper for car. First big snow in years I am told. Bring transformers if bringing any US electrical. Have been told it will blow up, but so far so good. Just remember things are cheaper in US than here. I think a huge piece is whether you are moving temporairily or permanently," said another retiree in living in Crosshaven, Ireland.
Answer Question & View More Answers
About the Author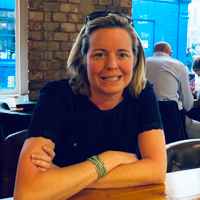 Betsy Burlingame is the Founder and President of Expat Exchange and is one of the Founders of Digital Nomad Exchange. She launched Expat Exchange in 1997 as her Master's thesis project at NYU. Prior to Expat Exchange, Betsy worked at AT&T in International and Mass Market Marketing. She graduated from Ohio Wesleyan University with a BA in International Business and German.
Some of Betsy's articles include 12 Best Places to Live in Portugal, 7 Best Places to Live in Panama and 12 Things to Know Before Moving to the Dominican Republic. Betsy loves to travel and spend time with her family. Connect with Betsy on LinkedIn.