What advice do you have for expats having a baby in Italy?
We asked expat moms who gave birth in Italy about their experiences and advice they have for other moms to be. They said...
"It is wise to become familiar with the Italian healthcare system, and to research any differences in the types of care available in Italy versus other countries. Finding English-speaking care providers, midwives, doctors and administrators in the Italian system can also be helpful. It is recommended to visit the hospital prior to giving birth to become familiar with the setting and to understand the process of giving birth in the Italian system. Interpreter services can be useful in making sure that all parties understand each other during the birthing process. Lastly, check with your insurance company to make sure your coverage extends to Italy and confirm that all of your paperwork is in order prior to giving birth to avoid any potential complications," remarked another expat in Italy.
"I'd tell her to shrug off the opinions people impose on you, and to not take it personally. For example, don't worry if you don't want to know the sex, or if you don't want to share the name," said a member in Montesilvano, Pescara, Italy.

International Health Insurance
PassportCard Introduces an innovative approach to expat and digital nomad health insurance with no out-of-pocket expenses, no paperwork and no long claim processing, facilitating payout on the spot when you really need it. Outstanding service validated with more than 2 million customers for over 20 years. Get a quote from our partner, PassportCard.
GET A QUOTE
Other Questions:
What advice do you have for expats having a baby in Italy?
If you live in Italy, newcomers to Italy would love to hear your answer to this question.
About the Author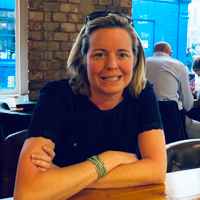 Betsy Burlingame is the Founder and President of Expat Exchange and is one of the Founders of Digital Nomad Exchange. She launched Expat Exchange in 1997 as her Master's thesis project at NYU. Prior to Expat Exchange, Betsy worked at AT&T in International and Mass Market Marketing. She graduated from Ohio Wesleyan University with a BA in International Business and German.
Some of Betsy's articles include 12 Best Places to Live in Portugal, 7 Best Places to Live in Panama and 12 Things to Know Before Moving to the Dominican Republic. Betsy loves to travel and spend time with her family. Connect with Betsy on LinkedIn.