12 Best Places to Live in Italy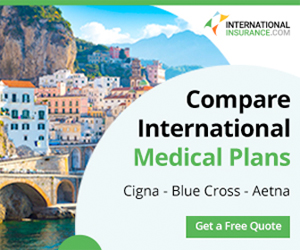 Summary: Italy is beloved by expats, global nomads and retirees. We've compiled a list of the 12 best places to live in Italy based upon expats' recommendations. They include Liguria, Puglia, Rome, Le Marche, Abruzzo, Sicily and more.
Our list of the 12 best places to live in Italy is based upon hundreds of discussions and reports from global nomads, retirees and expats living in Italy.
Some areas of Italy can be very expensive, but there are many on our list that are affordable. "As far as standard of living, if you have little money and live in an expensive area, central Rome, Milan, Florence, then you will have a low standard of living. That same income spent in less expensive areas will give you a higher standard of living. Amalfi, Tuscany, etc... those place are beautiful indeed but you can find 'real Italy' where there are fewer tourists but real Italians. There are places that are also beautiful and full of history and culture that you don't need to wait on line for. Those are the places you want to live," explained one expat.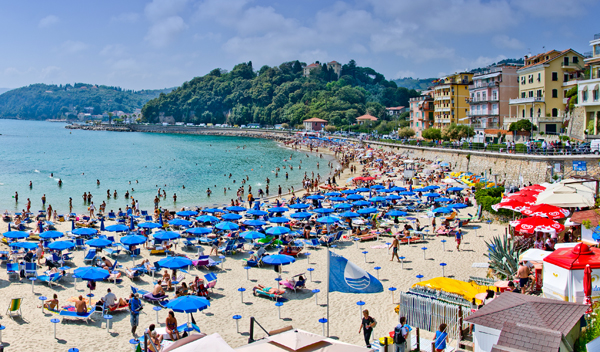 Lerici in the Liguria Region of Italy
"Liguria is beautiful and touristed on the coast, but mostly with Italian families and still with a lot of charm," wrote one expat. "We love Liguria...we are in the hills but only 15-20 min to the sea and the 5Terre [Cinque Terre]. So luckily the rush of tourism doesn't bother us and we can go to all the special sights after tourist season. There are many Feste, market days and out here in the hills rafting and canoeing and hiking and biking are the biggest sports," explained another expat in Liguria. The Cinque Terre is a stunning coastal section of Liguria made up of 5 fishing villages, some of which are situated on cliffs and hilltops.
"My husband and I (from Boston) moved just inland from lovely Levanto (Carro) and are thrilled with the area...and the weather. Rapallo is probably my favorite go-to vacationing city and we go often to walk and shop and eat. The market on Thursdays is amazing. Have you been to San Fruttuoso yet? You can only go by foot or boat from your area and it's a treat any time of year for quiet and beauty. You will be in the heart of a very busy area which will only 'lull' a bit in the winter but you can look forward in May to the Fish festival up the way in Camogli and the various antique shows in Chiavari. Our apartment is in a tiny hill town where the sheep may out number the residents so 'going to visit the big city' is our big treat," described one expat living in Liguria.
Places to live in Liguria: Our article, 10 Best Places to Live in Liguria, Italy highlights some of the most beautiful places to live in Liguria.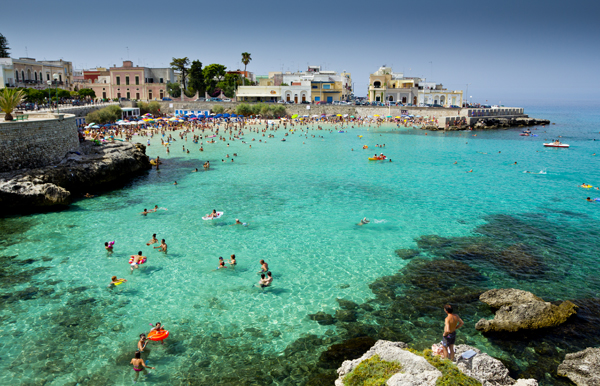 The Resort town of Santa Maria al Bagno in the Puglia Region of Italy
Puglia (Apulia, as Italians say) is home to a number of coastal cities such as Monopoli (49,000), Brindisi (87,000) and the capital city of Bari (325,000). Inland, you'll find other cities beloved by expats such as Martina Franca (49,000) and Lecce (95,000). Plus, the coast and inland areas are dotted with smaller towns and villages each with its own beauty and personality. For example, the town of Fasano in the Valle d�Itria area is a hidden gem. "It's easy to write off Fasano but this small city also has many charming contrade (some right on the Adriatic ) and others like Laureto and Selva that are in higher elevations with outstanding valley or sea views and cool summer evenings. (Fasano, the city, has endless convenience, dining, and shopping opportunities at very reasonable prices -- something you come to appreciate when you actually live here)," said one expat in a discussion about retiring in Southern Italy.
"There are countless pros for me for Italy in general, but living in Puglia revealed the wonderful nature of the Pugliese people. They are not jaded by tourism, they are patient with those who do not speak the language, they are empathetic, helpful and generous. My neighbors have been welcoming and curious about us Americans moving in down the street. I am so fortunate to have these people in daily contact and it has aided my transition here immensely," commented one expat in Puglia.
Places to live in Puglia: Our article, 10 Best Places to Live in Puglia highlights some Puglia's gems and Guide to Puglia, Italy covers what it's like living there.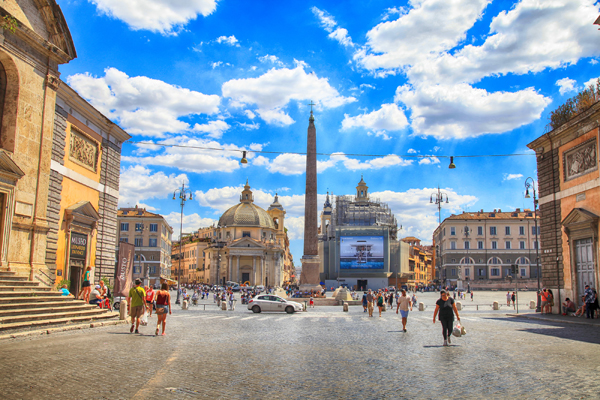 Piazza del Popolo in Rome
If you love living in cities, Rome should be at the top of your list. "The experience of living in the Eternal City can't be beat. The food is fantastic. Fresh pasta is divine. However, the Italian way of life is very different than that of the US way of life. At times, you will be frustrated and upset. For example, imagine going to the supermarket for days on end and there is no milk or fresh produce because there is a transportation strike going on. All notions of right and wrong do not exist here especially when driving. Italians will honk at you if you are going too slowly and they want to pass you or if you pause to wait for a pedestrian to cross the street you will be yelled at and honked at for not attempting to swerve around the pedestrian. My advice is to try to always remain calm and practice patience. If life gets too exasperating, go have a cappucino or better yet, get some good pizza and pasta and tackle your problem the next day. Another good tip, learn Italian. Make Italian friends who can help you overcome any difficulties," wrote one expat living in Rome.
Places to live in Rome: Read our Guide to Living in Rome for an in-depth look at expat life in Rome and neighborhoods where expats live.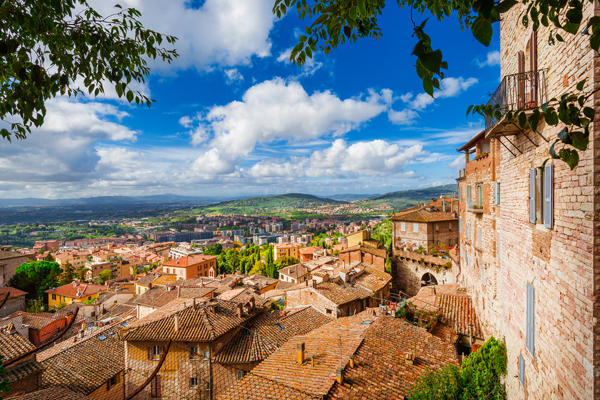 Perugia in the Umbria Region of Italy
"Umbria is often called 'the poor man's Tuscany,' in that people don't know too much about it, as compared to its neighbor. Having lived there, I can tell you that it is just as picturesque as Tuscany, the wines are just as good (although the Tuscan Vino Nobile di Montalcino is my favorite), and the history is just as robust," wrote one expat who lives in Gubbio in Umbria.
"We chose Umbria . We have travelled to many parts of the country for the past 25 years on our teacher summer breaks. We decided to buy our place outside of Todi becasue the location is scenic, it's close to a town (and Todi is a wonderful town that isn't overrun by tourists), there is plenty to see and do within an hour's drive, it's only 1.5hrs drive to Rome if we need access to larger shopping, it's only 1.5 hrs to either coast for beach days, it was more affordable than other areas we looked at, and it's one of the ancestral comunes of my husband's great grandparents. We work in San Francisco and live just minutes south of the City. We know what coastal living can do to your house (fog and rust) so don't want to deal with that in Italy. We love Maratea, but it's much farther south and remote, so we'll enjoy vacations there. We love Rome, but need to escape the daily living of crowds of people and traffic (so over it!). We'll be 'in the countryside' but close enough should we miss city life and all the services it provides," wrote one expat.
"I too am an Umbria resident and I third the suggestions. It is a beautiful area, traditional, tranquil, friendly people, the main north south rail lines run through it. 1.5 hours to Rome and 2 from Florence, it is the 'cheap' Tuscany. Very similar but with less tourists and less expensive. Decent health facilities. If you are retiring, health care should be up on your list. The south has a less robust health network," advised one member.
Places to live in Umbria: Perugia (167,000) is the largest city in Umbria (pictured above). Other notable towns and cities in Umbria include Passignano sul Trasimeno (5,700) on Lake Trasimeno, Assissi (28,000), Orvieto (20,500), Todi (17,000), Gubbio (33,000) and Spoleto (38,000).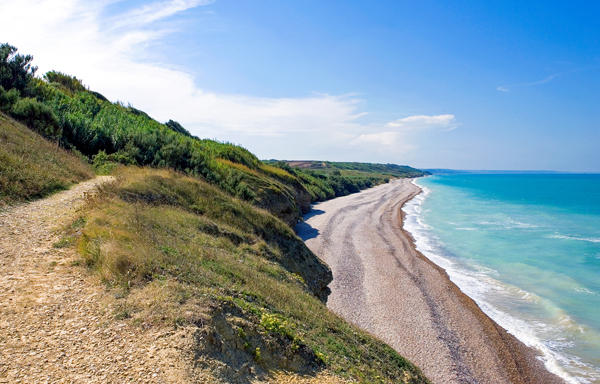 Punta Aderci Nature Reserve in Vasto in Italy's Abruzzo Region
"I have to agree, I'd go to Abruzzo too. Great mountains, fantastic scenery, great food and lovely people both Italians and expats in the area. I have some friends who have semi-retired there, although I would say they have set up a chic holiday let and have some land that they cultivate and harvest olives, so maybe the retirement was just an imagination. If you want it also has a beautiful coastline," wrote one expat.
"Pescara is a resort type of city, beautiful beach and not too far from the Appennin mountains. Very busy in the summer and quieter in winter. Public transportation is good, local busses and long distants and trains," reported one expat. "We have a place that we rent in the town of Pineto. Which is about 20 minutes drive from Pescara. Pineto is an Italian seaside town that has changed little in the last 30 or so years. It attracts mainly re-tired couples or young families, has beautiful sandy beaches backed by a Pineta. The town is not too large but, hosts many restaurants and shops and all the other usual amenities, a very good gelateria being one of them. There is a also a fantastic selection of restaurants scattered among the hillside villages 5 minutes in land. I have to say we find it a vary easy and relaxing holiday. The place has a relaxed feel and I have to say is one of the cleanest places I have ever come across in Italy. There is a large food market most days and a bigger mixed market on Saturdays, I would recommend having a porchetta panini at the saturday market - delicious. Throughout the main holiday season there are events organised and the main streets are closed for pedestrian only access, so you can enjoy a nice post dinner walk and browse the weekly evening markets. There are also many Festa's in neighbouring towns and villages to enjoy," described one expat.
"The Cafe TIBO in Penne has weekly English-Italian meetups. You can fnd them on Facebook," noted one expat. "We are in Abruzzo, the Chieti region, not far from Atessa. There are a good handful of Brits around and frequent lunches and such are available for an English fix. There are very few Americans, and in our village we are the only stranieri in the village proper, so everybody knows us. If the kind of place where someone can just walk into the bar and ask, Dove gli Americani? And have them walk you to our door is the kind of place your looking for, the the more rural areas may appeal. It's a trade off. We have a very quiet place. No traffic noise. Maybe a tractor chugging up the steep hills in the valley. But we don't have the services that are available in a more urban area," wrote another expat.
Places to live in Abruzzo: Pescara (120,000), L'Aquila (70,000), Penne (12,500) has a number of British expat residents, Vasto (41,000) on the coast (pictured above), Lanciano (35,000) is home to an international high school, Canadian College Italy and Pinteo (14,500).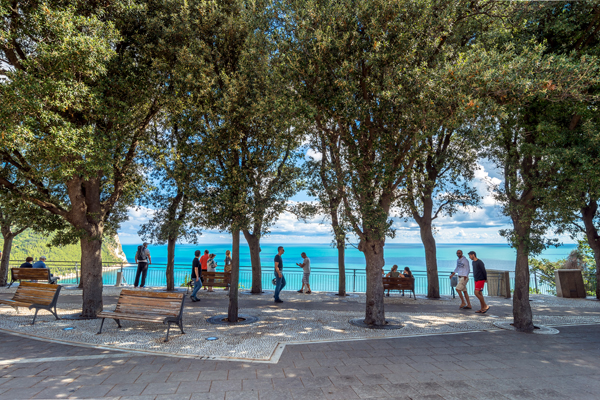 Sirolo, Italy
A number of years ago, one expat offered a prediction that has come true, "Le Marche is on the Adriatic and promises to be the next Tuscany-Umbria. The capital is called Ancona and it's airport is called Falconara Marittima." Another expat said, "it would be a great place to retire. The landscape is glorious, the prices are amazing (we considered renting a 5 level, 5 bedroom house within a town with a garden for what we are paying for our apartment in Umbria now), the food was incredible."
"In Marche we also have beautiful beaches, many medieval towns, and friendly people rich in dialect. Sound familiar? To top it off, our summer months are pleasant and not Texas hot," described one expat. Another expat explained, "We found all this in Le Marche, specifically Ancona. The Conero National Park is right there. Type 'Conero Italy' in Google to see the many beaches along the Conero Riviera. Also typing in 'Sirolo' will give you some flavor. Check out the location of the airport, train station, road access etc. Beautiful!"
"Le Marche: I have been visiting for years and love it. it is central Italy on the Adriatic coast. In my experience there are not a lot of expatriates but this makes it all the more an authentic Italian location for persons such as yourself. The city I am most knowledgeable about is Fano, right on the cost. It has great Roman era history, is a seaside resort without the glamour and cost of better known coastal areas. Now I rent there and am considering purchasing an apartment. Connections by train and air to major cities are good," explained one expat.
"We, too, love Le Marche and have been visiting for about 11 years. We used to live outside of Pisa many years ago, while my husband attended the University, and find that it is now too busy of an area for us. We will be moving to southern Marche in September and renting initially for a year, while we continue our house search and also to decide where exactly we would like to live. We know most of the villages in the province of Fermo quite well, but it will be much different actually living there year round. We love the province of Fermo as well as Offida and the city of Ascoli Piceno. However, at least in these areas, there are quite a number of ex-pats, which we had to get used to," said another expat.
Places to live in Le Marche: Notable cities and towns in Le Marche: Ancona (100,000), Pesaro (95,000) was designated as a Creative City by UNESCO World Heritage sites in 2017, Fano (61,000), San Benedetto del Tronto (47,000) is one of the most popular resort towns on the Adriatic, Fermo (37,000) and Sirolo (4,000) on the coast (pictured above).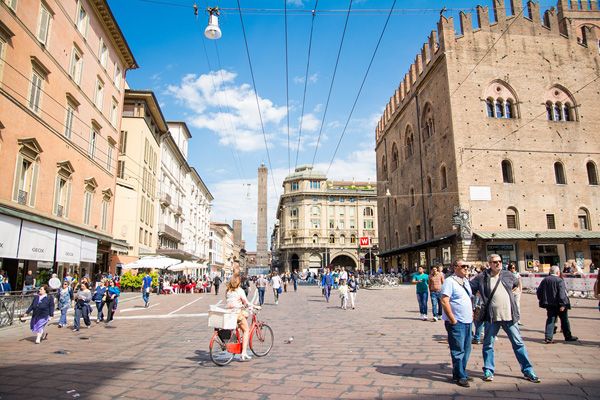 Bologna
"The general population are well educated due to the strong university presence and there is a good mix of Italians from all over. Many come to study and then just stay. There is also a lot of cultural activities, many which are either free or low cost," said one expat in Bologna.
"I would suggest you consider Bologna if you're looking for a small city. It's a great place to have as a base as you are an hour away from Florence, 2 from Venice, 1 1/2 from Milan, approx 1 hour from the seaside. Plus as it's a northern city, it's quite well organized. There's traffic, but it's not unbearable. Bologna University is the oldest in Europe and offers a great many cultural events as does John Hopkins which has branch here. You'll find Italians from just about everywhere as many come to study and then just stay," added another expat.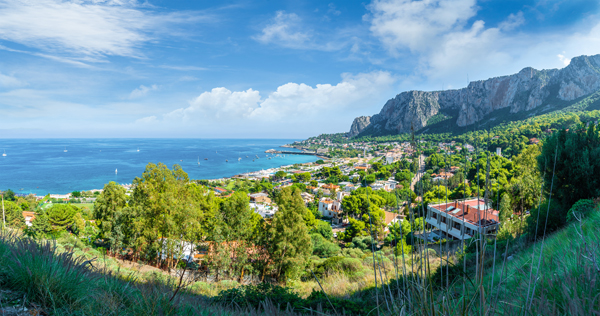 Mondello near Palermo, Italy
"I'll talk about Palermo. I live in Mondello, a beach community about 20 minutes from downtown Palermo. The place is spectacularly beautiful with a crescent beach and turquoise water. The locals are very friendly and accepting and we have formed several friendships. Shopping is relatively cheap with great fresh produce always available with, however, a rather limited choice because what is sold is what is grown. Area supermarkets are well stocked and prices are good. Fish is fresh and moderately priced and is available on the docks and in dedicated fish shops. Certain items are not readily available because of cultural reason. For example I love croissants, the real ones. In Italy they have cornetti which look the same but are not. Not even close. Same with brioche. Here it's nothing but a bread role used to serve ice cream. The French versions just do not exist. In summer the place is overrun by people from the city. My private Mondello becomes a public beach with too many people. A significant percentage of the crowds do not care about others and they drop trash wherever they want and make noise whenever they want. Most are friendly but slobs. Palermo has an airport with cheap access to the USA and other parts of Europe. The island is large and varied and provides plenty of opportunity for exploration. The weather is, for the most part, great. Winters are mild with occasional rainy days. Spring and fall are the best seasons anywhere. Summer, starting in late June, is hot. It's no hotter than say NYC, but it is consistently hot, mid '90's with humidity in the 60% range. Some days can be oppressive. But the nights cool down and AC is rarely needed for sleeping," wrote one expat in Mondello near Palermo, Sicily.
Places to live in Sicily: Palermo (675,000), Syracuse (121,000), Trapani (68,000), Agrigento (60,000) and Mondello (16,000).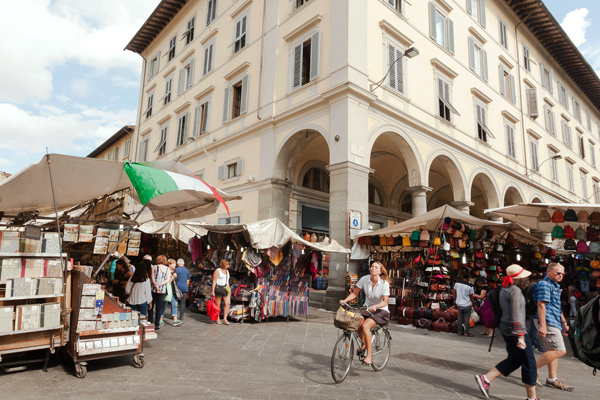 An Outdoor Market in Florence, Italy
"Florence is a fantastic city. If you like Boston or San Francisco you will love it here. Florence is smallish, flat (easy to walk), much more inexpensive then Miami (where I live half the year), extremely cultured and cultural, great restaurants and exhibitions and located in beautiful Tuscany, near Umbria and Liguria, a train ride from Venice and Rome - what more do you need," wrote one expat.
"Florence is a place where you can walk around and actually picture what life could've been like in medieval times. The countryside is beautiful and definitely picturesque. The wine is fantastic and sitting in cafes can be a leisurely past time. Sitting in ancient piazzas and seeing beautiful works of art can be breath taking. I do like the shopping here as well," described one expat.
Best Places to Live in Florence: For more about where to live and expat life in Florence, read our article, 5 Tips for Living in Florence."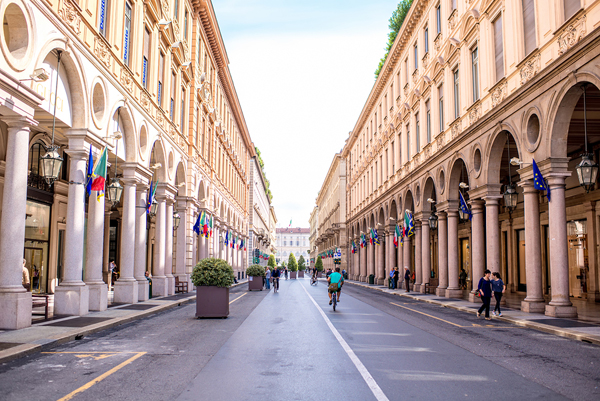 Turin, the capital of Italy's Piedmont Region
"Turin is a lovely city, very welcoming and with many cultural activities, parks, museums and an extensive public transport system." It's home to two universities and an international airport. To learn more about Turin, read our article, "8 Tips for Living in Turin."
When asked about best places to live in Italy, one person preparing to move said, "Have you thought about Piedmonte. There are several medium size towns such as Cuneo, Alba and Bra all of which are very attractive. The scenery around this area is fabulous and much of it is within the UNESCO world Heritage site which covers the Langha Hills. Renowned for good wines, still very italian and few ex pats, we love it and are moving there soon."
Places to live in Piedmont: Turin (886,000), Chieri (37,000), Alba (31,500). For more places, read our article, 7 Best Places to Live in Piedmont, Italy.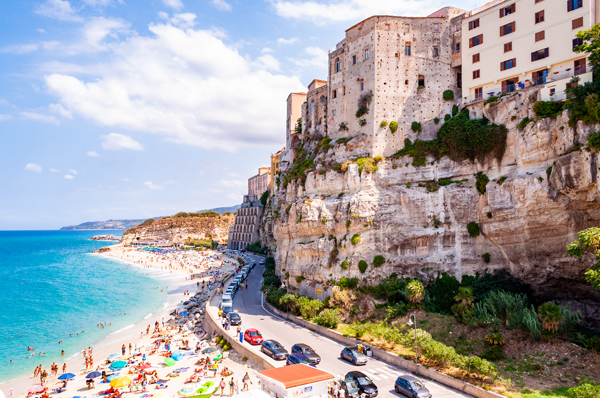 Rotonda Beach in Tropea in the Calabria Region of Italy
Calabria is the toe of Italy's boot and another of Italy's best kept secrets. "One of the best place to enjoy and live in Italy, is for sure Calabria. The best and clean sea in Europe, typical food done by local farmers, low costs of the life, sunny place all the year around, and more and more. All the facilities is in place. Direct flight from London in Lamezia Terme airport. All what you want you can have," wrote one expat.
Places to live in Calabria: Reggio Calabria (200,000), Catanzaro (90,000) and the stunning clifftop town of Tropea (6,000).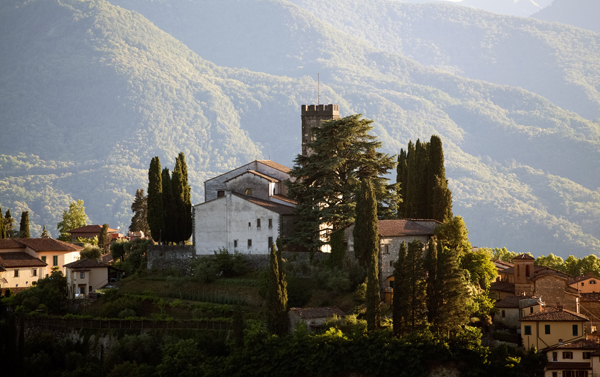 Barga in the Garfagnana Region of Tuscany
"I have noticed a lot of people asking about the best places to live in Italy. I still think Tuscany has a lot to offer and the prices have dropped considerably. I live in the Garfagnana region which is close to Pisa (less than an hour away with the new motorway) has a large new hospital, very friendly locals and neighbours, is close to major tourist attractions for visiting friends and the local produce and food is delectable. Most towns have a traditional festival or market so there's always something to do. I would highly recommend the area," shared one expat. "Good point...Barga is a wonderful town with quite a few ex-pats and there are so many hidden treasures in the Garfagnana region... forests, a beautiful cave system with tours, rivers and lakes, terme (hot baths) in Bagni di Lucca and on and on," added another. "Yes indeed, not forgetting the advantageous costs of living and particularly low restaurant prices, together with very affordable housing costs. It's in a great geographical location for visiting the main cities of Rome, Florence, Lucca, Bologna, Pisa and Venice. There's also the coast with the famous Cinque Terre and ferries for visiting Corsica, Elba and Sardinia not too far away. With the added advantage of having affordable housing and friendly locals. It has so much to offer," she responded.
Places to live in Garfagnana: Barga (10,000).
About the Author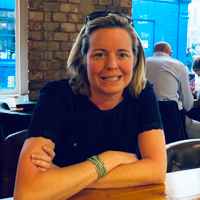 Betsy Burlingame is the Founder and President of Expat Exchange and is one of the Founders of Digital Nomad Exchange. She launched Expat Exchange in 1997 as her Master's thesis project at NYU. Prior to Expat Exchange, Betsy worked at AT&T in International and Mass Market Marketing. She graduated from Ohio Wesleyan University with a BA in International Business and German.
Some of Betsy's articles include 12 Best Places to Live in Portugal, 7 Best Places to Live in Panama and 12 Things to Know Before Moving to the Dominican Republic. Betsy loves to travel and spend time with her family. Connect with Betsy on LinkedIn.